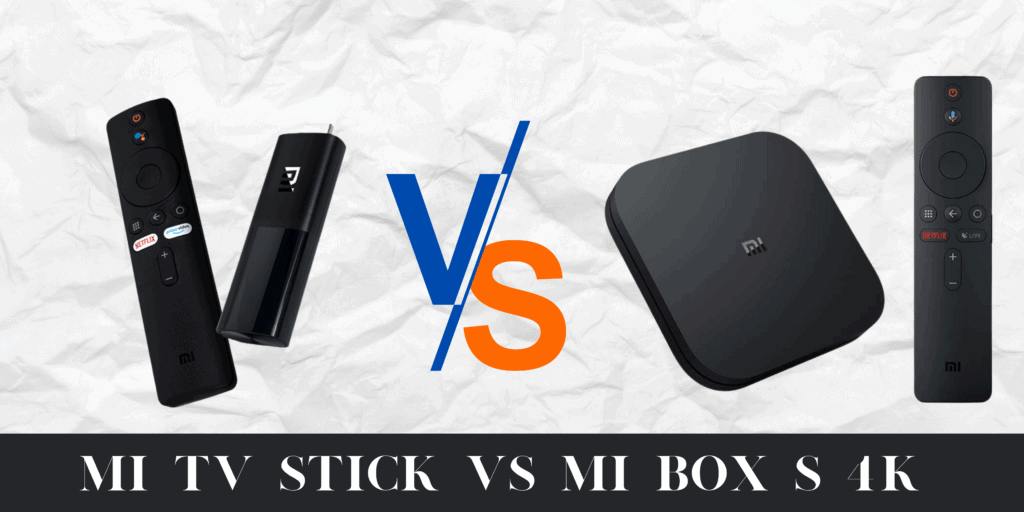 Smart TVs are all the latest craze, especially since the global pandemic has caused everyone to spend more time at home. Every smart TV manufacturer is competing for a spot in your living room's entertainment system. Since Xiaomi has released a Mi TV Box and Mi TV Stick, people have been wondering which would be best for them.
To make things easier for you, I've gathered the information and made a comparison between the Mi Box S and Mi TV Stick so you can easily weigh out your options and choose the one that suits your needs!
So what's the difference?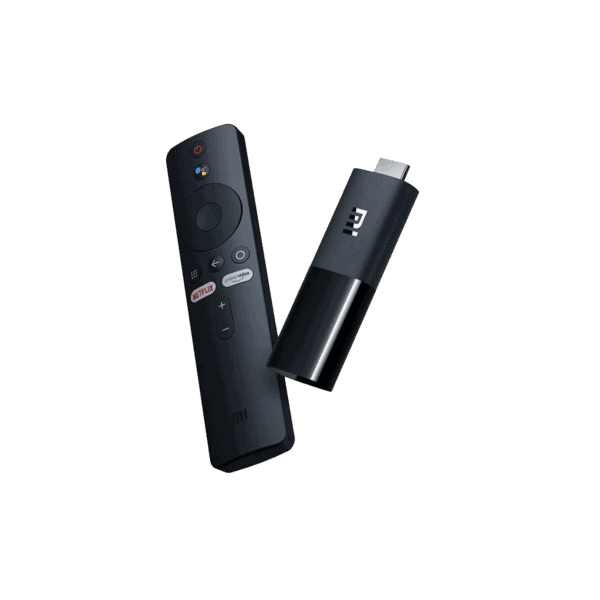 Except for form factor and resolution, there isn't much difference between the two devices. Almost all of the features seen on the Mi Box S are also found on the Mi TV Stick. The Mi TV Stick differs in that it is a pocket-sized tiny streaming stick with a rectangular design similar to the Amazon Fire Stick. The Mi TV Stick is powered by a separate AC adapter and connects straight to your TV's HDMI interface. If you prefer, you can charge it using one of your TV's USB ports, which is more convenient.
The Xiaomi Mi TV Stick is designed to be simple and discreet. The stick is small enough to be hidden behind a screen and weighs less than 30g! Small enough to easily fit in your pocket.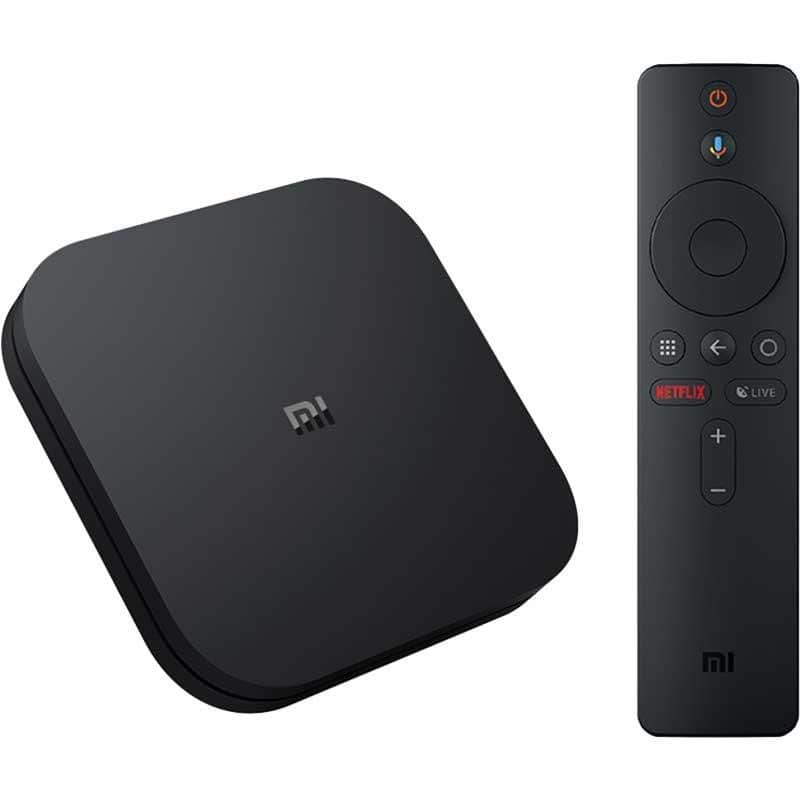 The Mi Box S on the other hand is a regular square-shaped device that needs a dedicated HDMI cable to connect to your TV. It's powered by a dedicated AC power adapter.
The Xiaomi Mi Box S is subtle and stylish, if a little plain. It's a tiny matte-black box with a diameter of less than 10cm and a weight of only 147g. It isn't as compact as other streaming devices, but it won't be an eyesore when placed close or behind even the tiniest TV.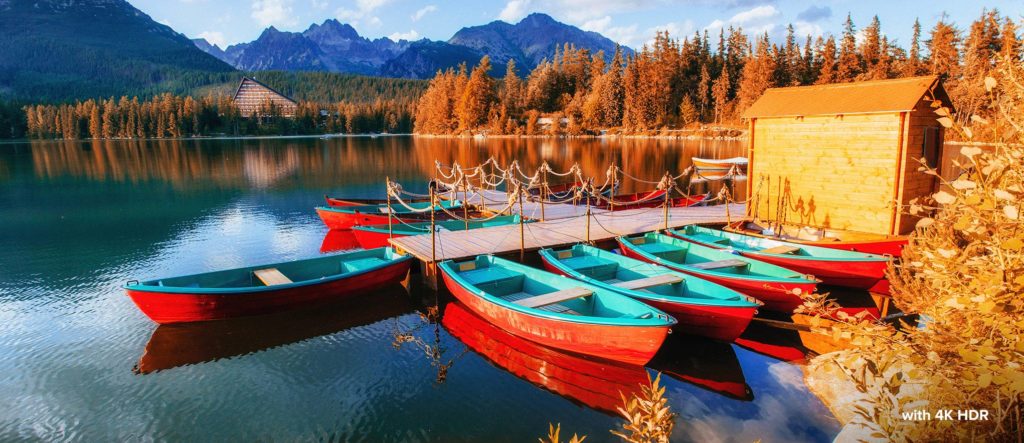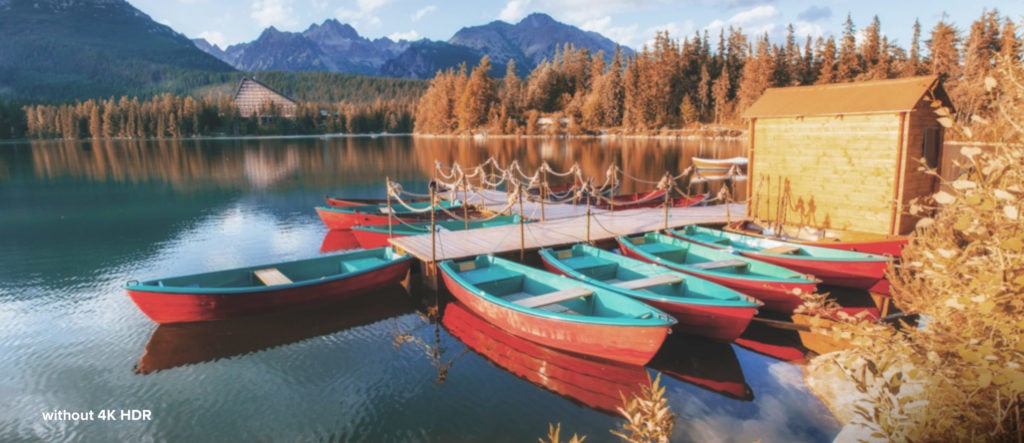 The Xiaomi Mi Box S is powered by Android TV, a quad-core processor, 2GB of RAM, and 8GB of storage. While the specs may not seem impressive in 2021, that's enough power to handle 4K at 60fps. It also supports HDR.
This device supports Dolby Audio and DTS 2.0 if you have a compatible TV, speaker, or soundbar. The Mi Box S has a very user-friendly and self-explanatory UI. You'll feel right at home if you're used to Android products.
It supports Wi-Fi, Bluetooth, and USB connections, delivering super-fast transfer speeds.
The Xiaomi Mi TV Stick, on the other hand, is a small 1080p streaming device that runs Android TV version 9.
It also has Dolby and DTS surround sound and is powered by a quad-core CPU with 1GB of RAM instead of the Mi Box S's 2GB of RAM and 8GB of storage. This gives it enough power to handle Full HD 1080p content at 60fps. Although, it does not support 4K playback.

The Mi Box S remote has a power button, volume controls, a dedicated Netflix and Prime button, as well as the standard home, apps, and back buttons. The Google Assistant button launches voice search, making it quick and easy to discover what you want, and there's a circular digital pad to help you navigate the interface manually if you prefer.
The remote's buttons are responsive and of a good size to press. You don't have to direct it towards the box because it runs on Bluetooth; all you have to do is be in close proximity to it.
Visually, both remotes look identical.
Like the Mi Box S, it includes Google Assistant and Chromecast built-in. This means that, in addition to using the remote, you can just speak to your TV using voice commands. Google's AI powers voice, which can pause/play media, search for movies on Netflix, videos and playlists on YouTube, and even turn off your television.
While Mi TV Stick remote has a button for invoking Google Assistant, a D-pad for navigation, back, home, and menu buttons, volume controls, and dedicated buttons for Netflix and Prime Video.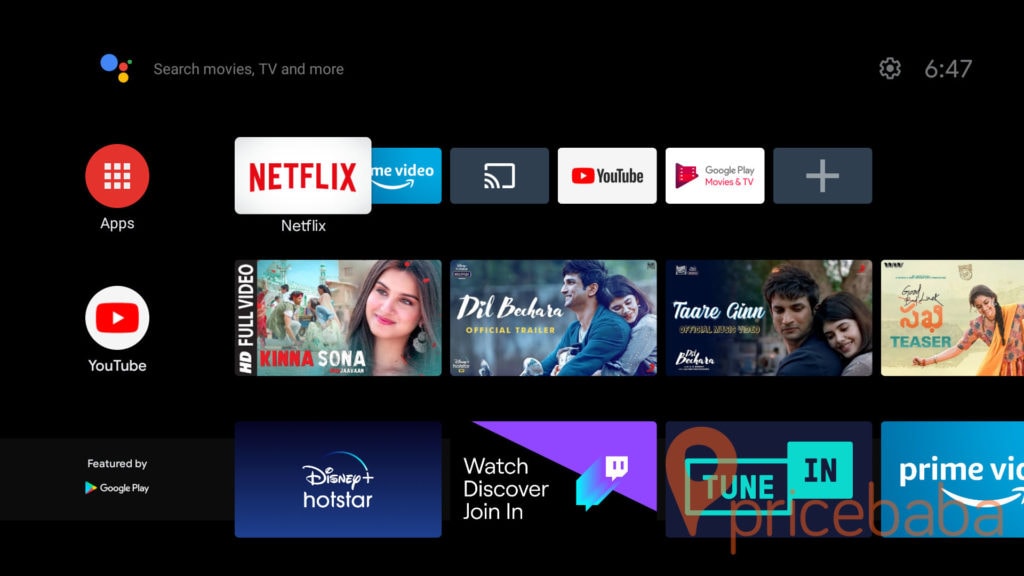 Xiaomi's devices bring an array of cool features and apps up to 3000+ channels to choose from.
All of your favourite streaming services are easily accessible with the Mi TV Stick. Netflix, Prime Video, and YouTube are pre-installed, and the Play Store also has Disney+, HBO Max, Spotify, Twitch, and dozens of more apps.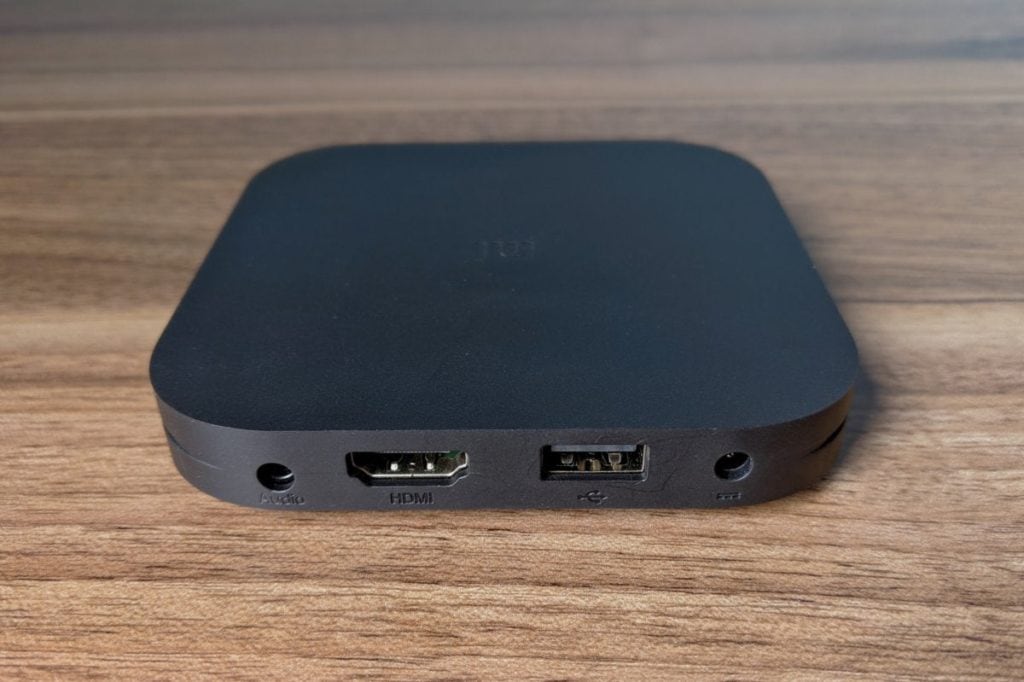 The Mi Box S has an extra USB connection over the newer Mi TV stick for people who want to side-load apps or attach an external hard drive to the TV. However, you could still use the Mi TV Stick to sideload apps through Wi-Fi.
Pros and cons of Mi TV Stick
The Xiaomi TV Stick delivers on its promises. It has to cut costs somewhere to be one of the cheapest streaming devices on the market, as evidenced by the 1 GB RAM and 8 GB ROM. This causes the TV stick to become sluggish at times, but not always.
Pros
Features on the audio front like Dolby and DTS 2.0 works like a charm when connected with supported Bluetooth speakers
Google Assistant works really well and remote picks up well
Great value
Cons
While navigating through the user interface (UI) can be sluggish at times, the device always streamed videos/content without delay
8GB ROM or internal memory is a little low since you can't add extra storage. you will run out of space after installing a handful of apps and games
The lack of 4K streaming - only suitable for TVs with smaller screens
Doesn't have extra USB port, so you can run content off a USSB device like external hard disk
Pros and cons of Mi TV Box S
Pros
Operation is smooth due to the Android 8.1 Oreo Operating System
Navigation is smooth and simple to understand
USB port to connect external hard-drive, flash drive, controllers or other accessories
Enables high graphics gaming
Cons
No ethernet port
Amazon Prime cannot be accessed unless you have an annual subscription
Phone mirror feature only works well when device is switched on (other SMART TVs works even when screen is off)
Little lag when playing certain 4K content (maybe future updates will take care of this issue)
Specification Comparison Table
Mi TV Stick
Mi Box S
RAM
1GB
2GB DDR3
Storage
8GB eMMC
8GB eMMC
CPU
Quad-core Cortex-A53
Cortex-A53 Quad-core 64bit
GPU
ARM Mali-450
Mali-450
Resolution
1080P ([email protected])
4K (3840 x 2160)
Ports
HDMI x 1, Micro USB x 1
HDMI2.0a x 1, USB2.0 x 1, Audio Out x 1, Power Interface x 1
WiFi
802.11a/b/g/n/ac 2.4GHz/5GHz
802.11a/b/g/n/ac 2.4GHz/5GHz
Bluetooth
4.2
4.1
Audio decoder
DOLBY, DTS
DOLBY, DTS
Audio format
MP3, AAC, FLAC, OGG
MP3,APE,Flac
Video decoder
VP9-10, H.265, H.264, VC-1, MPEG1/2/4, Real8/9/10
[email protected],VP9, H.264,MPEG1/2/4,VC-1,Real8/9/10
Video format
RM, MOV, VOB, AVI, MKV, TS, MP4
RM,MOV,VOB,AVI,MKV,TS,MP4,3D
Image decoder
JPG, BMP, GIF, PNG
JPG,BMP,GIF,PNG,TIF
In the box
Mi TV Stick, Remote Control, Power Adapter, User manual
Mi Box S, Remote control, HDMI Cable, Batteries x 2, Power Adapter, User Manual
Price
RM147.00
RM259.00
Conclusion
So which one would you pick? Both Mi TV Stick and Mi TV Box S will do what its supposed to - but regarding your needs and preference for the features and capabilities, you need to look at them respectively. Think carefully about which device would be compatible with your TV. And from there you'll get your pick.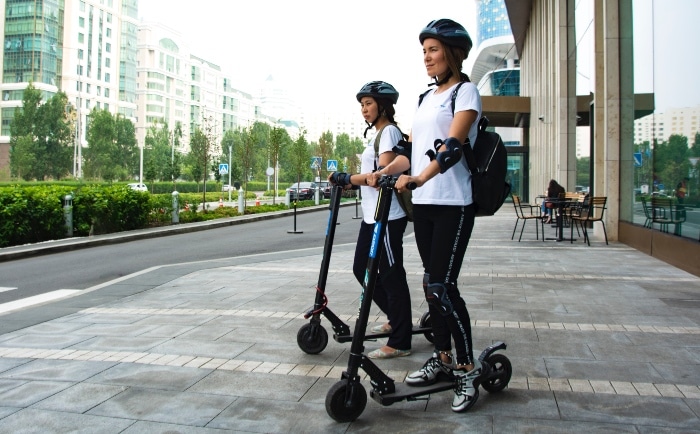 With all of the traffic congestion these days, getting around the city can be difficult. Public transit is a lifesaver, but it's too bad it can't get you everywhere; it's only good for a few places.
You can get around the city on an electric scooter. It is environmentally friendly, extremely handy, and saves a significant amount of money on your car petrol. You may ride the electric scooter wherever you want in the city, and because the electric scooter is light and portable, you can take it on public transportation like the train or bus. The electric scooter will easily fit in the boot of your car too.
Here are the best electric scooters in Malaysia, and you may pick the one that best meets your needs!
List of electric scooters
Xiaomi Mi Electric Scooter Essential
INOKIM Light 2 UL2272 Electric Scooter
Mi Electric Scooter Pro 2
Electrical Scooter Zero 9
Segway Ninebot MAX
SEALUP XLP- Q8 IP54 Waterproof Foldable Electric Scooter
Ninebot Segway KickScooter ES4
Starlight V2 by Star Wheels
GTE Electric Scooter Foldable Adult Two-wheeled City Scooter
HX X7 Electric Scooter
InMotion L9 Electric Scooter
Glion Dolly Electric Scooter Model 215
1. Xiaomi Mi Electric Scooter Essential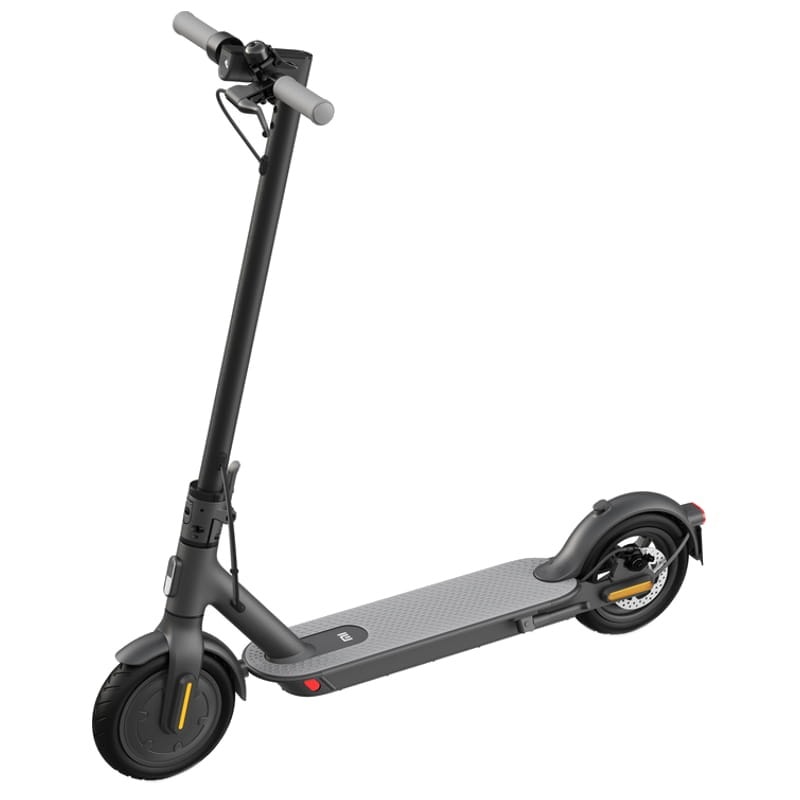 The Mi Electric Scooter Essential is for those who like to keep things light and simple. The vehicle is made of a low-density, high-strength aerospace grade aluminum alloy, resulting in a net weight of only 12kg, making it easy to transport.
Essential features a minimalist design.
The scooter has a top speed of 20 km/h and a range of 20 km, thanks to the Essential battery's maximum output of 500 W.
The kinetic energy recovery system (KERS) has been fully upgraded. When braking or releasing the throttle while driving, the energy conversion is more efficient, further increasing battery life
There are three riding modes: normal, pedestrian and sport. The accelerator is a button on the right-hand handlebar, while the left-hand side has a bike-like brake and a rather unnecessary bell. For nighttime riding, a bright LED light is incorporated into the front of the handle.
It also boasts cruise control, front and rear lights, E-ABS brakes and a phone app to check riding stats, battery status and to upgrade firmware.
Multi-functional dashboard shows accurate display of speed and various ride states
Their comfortable foam grip for increased comfort and improved control experience
One button for multiple functions - Just one button to turn the scooter on/off, switch speed modes, and turn on the headlight
The Essential is an excellent low-to-mid-range electric scooter
Price: RM1,179
2. INOKIM Light 2 UL2272 Electric Scooter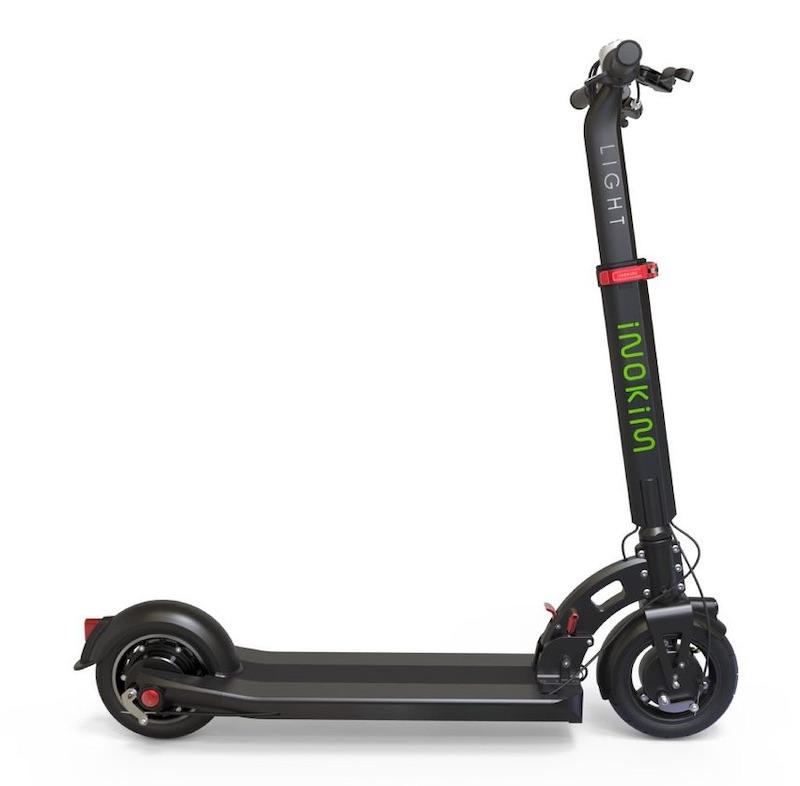 The popular INOKIM Electric Scooter model is back with a powerful 350W motor, and dual drum braking system, packed into the same beautiful design.
The brushless hub motor with 350W of power and a 36V Li-Ion battery - this is to ensure that the electric scooter may travel at a maximum speed of 35 km/h.
Along with the powerful motor, the latest and enhanced dual drum braking system ensures that your safety is never compromised. The braking system is also simple to maintain because there are no brake pads or disc rotors to replace; all you need is frequent tuning.
It has a maximum load capacity of 100 to 120 kg with front and rear CST Pneumatic tyres of 8.5 inches in diameter.
Inokim's scooter is also foldable, making it easy to transport and store. And of course, it has front and rear lights.
A worn or broken tyre and tube can now be replaced with ease - Simply loosening the locked screws on the removable rear hub enables for a simple tyre changing.
With all of the specifications for electrical and mechanical components thoroughly tested, Inokim ensures higher safety standards in their electric scooter products.
Price: RM2,449
3. Mi Electric Scooter Pro 2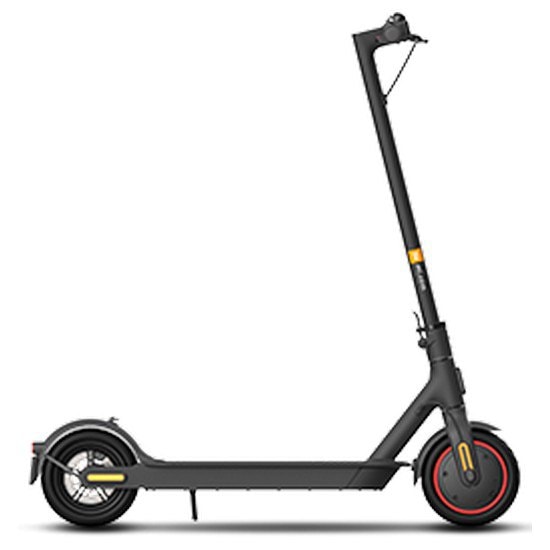 The Mi Scooter Pro 2 is an evolution of the original - it has a more powerful motor and bigger capacity battery.
It does weigh more, and at almost 14kg, it's about as hefty as a light electric bike.
With a 600 W max power, the top speed is at 25km/h, the wheels are standard 8.5in, and the range is up to 45km.
There's a new KERS system that's more efficient than before, and the tyres are said to be three times more resistant to skids and punctures.
The Mi Scooter Pro 2 is more than capable of getting me up those hills without a problem.
It's best to ride it on calm surfaces, as the little wheels don't absorb any bumps and there's no suspension.
Xiaomi's app would be used for a variety of Xiaomi goods, but after you've created an account and added the Mi Electric Scooter Pro 2, it can act as if it was built only for the scooter.
It's simple to use and offers a variety of options, such as enabling cruise control and deciding whether the back light is always on or only flashes while braking. It's also useful for selecting mph rather than km/h.
There's a 'lock' mode which introduces rolling resistance as a deterrent to a thief (or a family member!), along with an annoying beeping noise and flashing lights.
Price: RM 2,388
4. Electrical Scooter Zero 9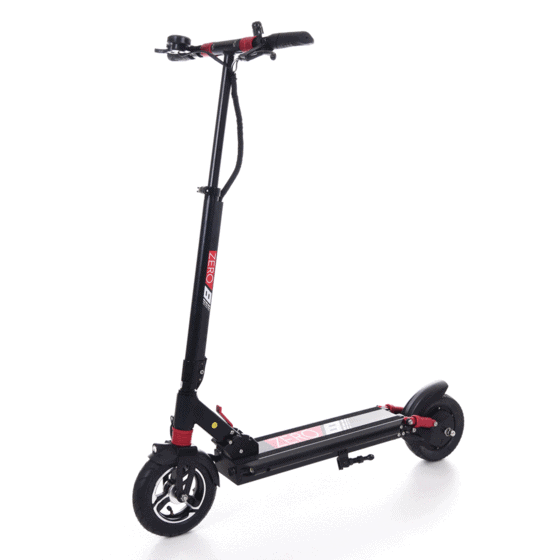 The Zero 9 is an electric scooter that was created with the goal of going further.
It can travel up to 45 kilometres on a single charge, which takes about 6 hours. You may charge the scooter as you sleep at night and have it ready to ride when you wake up.
The distance is sufficient to get you around the city in a day.
The scooter is equipped with a 25A controller and a 600W motor, as well as a 48V 13Ah battery. The compact car also comes with a new set of 8.5-inch pneumatic wheels in the front and back, which provide a smoother ride and greater balance.
A front disc brake and a rear drum brake are included to assure your safety while riding the scooter. It also has a front spring suspension and rear air shocks. The scooter's maximum load capacity is 120 KG.
With 8-inch pneumatic wheels, it offers better ride quality and traction than 8-inch wheeled scooters without the bulk of a 10-inch wheeled scooter - an excellent balance.
Whether its long range commute or leisure rides, the ZERO 9 will provide you with a smooth ride for the duration of your journey.
Price: RM2,799
5. Segway Ninebot MAX
The Ninebot Kickscooter MAX is here to ignite your spark, with the longest distance of any Segway-Ninebot, durable tyres and a body designed for all terrains, all at an affordable price.
The MAX is the latest addition to the renowned Ninebot KickScooter line from Ninebot Segway, a leader in personal mobility. The next generation e-scooter is more powerful than ever before, with major advancements in practically every element.
Featuring 2.5W LED front headlight, rear/brake light and on-off switch button.
Using Dual Brake System - Front wheel mechanical drum brake. Back wheel regenerative electric brake. Simultaneous dual brake provides the greatest stability and steerability. IPX5 water resistance.
Reflective Sticker offers high-quality reflective warning sticker. On both sides of the front and rear fork. Increased safety at night!
The LED Dashboard includes power assist for pushing the scooter by hand, maintenance signal, Indicator lamp of power levels and Bluetooth.
The wide vacuum inflatable tyres is 10-inch front and rear tubeless tires. Shock absorbing for comfortable riding for improved control and handling of the bike. It will get you through bumpy terrains.
The scooter's spacious footrest and deck - keeping your legs upright for more freedom and comfort with an anti-slip surface.
Price: RM2,799
6. SEALUP XLP- Q8 IP54 Waterproof Foldable Electric Scooter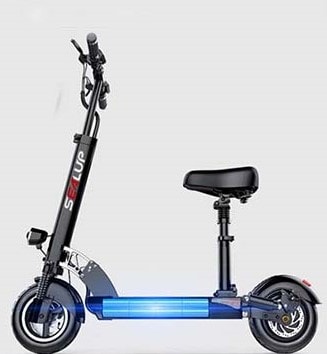 This SEALUP electric scooter has a seat, giving it the appearance of a tiny motorcycle.
The scooter has been carefully constructed with a sophisticated 500 W motor system and the best lithium battery pack, allowing it to travel up to 150 kilometres.
The scooter's efficient engine power also improves its climbing ability, allowing it to effortlessly climb up to 30 degrees.
The scooter has an LCD display that may be used to regulate gear switching, traffic data analysis, power display, cruise control, and the LCD interface.
The scooter's frame is both lightweight and waterproof. The front wheels are supplied with metal spring shock absorbers, while the rear wheels are equipped with twin hydraulic shock absorbers. This is to ensure that the scooter rises smoothly and without interruption.
The scooter is also equipped with a front and rear porous disc brake system, which works well in emergency situations. There are also front and sidelights on this item, as well as warning rear lights. This allows you to ride the scooter wherever you want without fear of being hurt.
Price: RM2,358
7. Ninebot Segway KickScooter ES4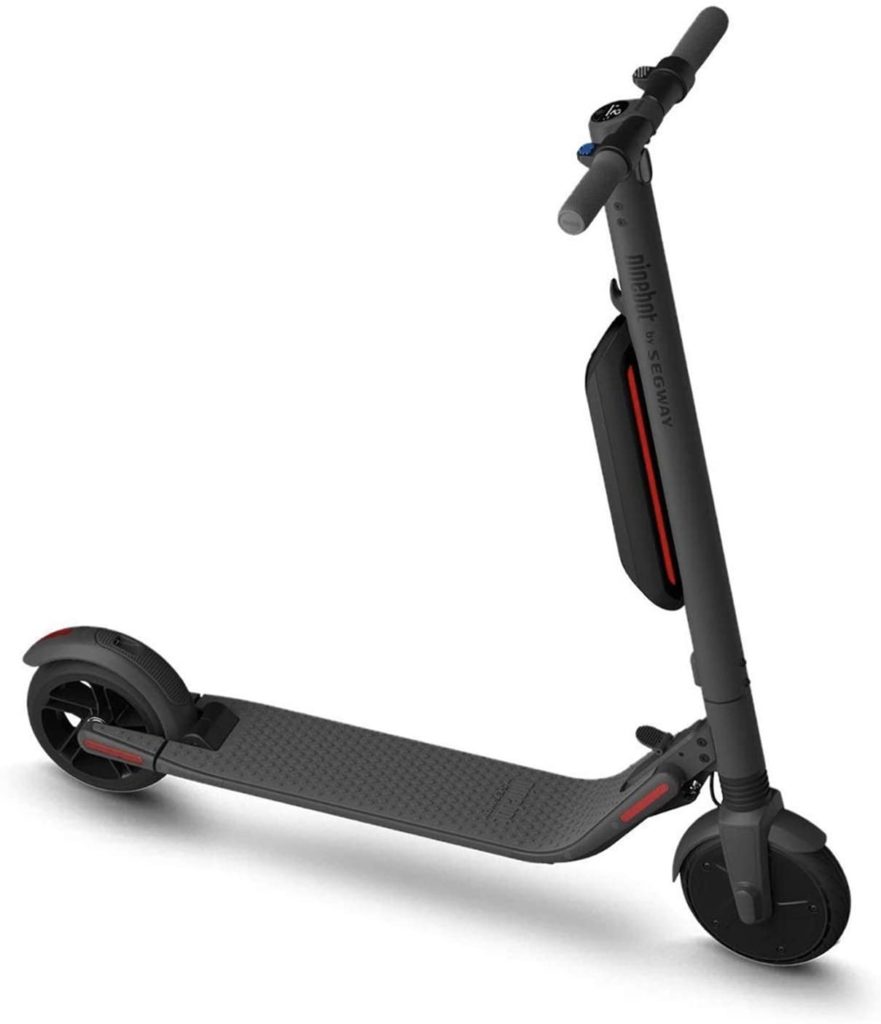 In hues of grey, the ES4 has a utilitarian appearance and design. It's simple to use and was the industry standard for a reason, but it's been surpassed by other scooters.
The ES4 is well-made, long-lasting, and quick enough to keep up with traffic. With dual batteries as standard, the ES4 has roughly 35 percent greater range and goes 5 kmh faster, with a top speed of 29.5 kmh.
Its riding ergonomics are good. With simple thumb controls for the brake and throttle, the rider can comfortably control the scooter while keeping both hands on the handlebars.
The Ninebot ES4 is very easy to handle. You do not need experience or finesse to accelerate from kickstart. It goes from 0 to 24 kmh in 6.6 s.
The entertaining under-deck lights are one of the ES4's best features. A Bluetooth-enabled mobile app lets you control the lights, including colour schemes and patterns.
It's quick enough to keep up with bikers in traffic, and its shared market appearance may deter theft. However, the firm tyres prevent you from feeling any suspension dampening, making prolonged rides quite uncomfortable.
The Ninebot ES4 comes with a regenerative brake and foot brake. For normal stop and go, the regen brakes are effective and really easy to use. In an emergency stop, the rider will need to keep their rear foot free to hit the rear fender, which applies the foot brake.
The external battery architecture has both advantages and disadvantages. The charging port is located on the top of the battery, which eliminates the need to crawl on the floor to plug it in. It's difficult for a thief to remove the battery because it's fastened into the stem.
The ES4 loses some range and top speed after the external battery is removed, which is a disadvantage.
Price: 2,388
8. Starlight V2 by Star Wheels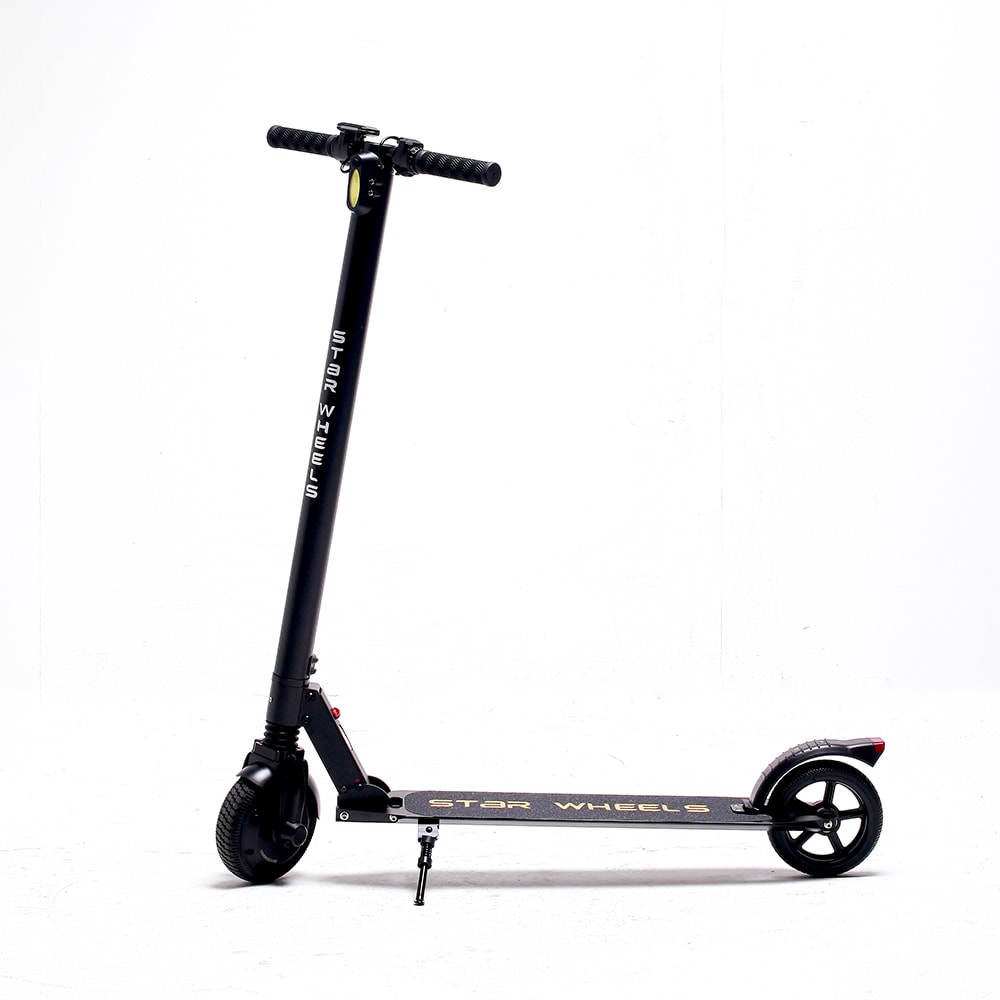 Introducing the E-Scooter STARLIGHT V2! One of the LIGHTEST scooter in the market, weighing 8 KG! Super Easy Folding, and User Friendly!
Starlight V2 features removable handlebars, front EBS brakes, rear mechanical brake, LCD display panel for controls, super bright LED headlights, and 6.5-inch pneumatic tyres. A 158.4Wh lithium-ion battery powers the 250W motor, which has a range of 15 to 25 kilometres and a top speed of 20 to 25 kilometres per hour depending on weight.
The Startlight V2 is also equipped with a triple-speed transmission and weighs only 8kg. Finally, a brake light adds to the safety of driving on city streets. The affordable price with a one-year warranty, making it ideal for beginners and budget-conscious people.
Most Suitable for LRT, MRT, KTM, Leisure and short distance transport! Recommended for Entry Level, minimal usage and indoor smooth surface.
Price: RM1,099
9. GTE Electric Scooter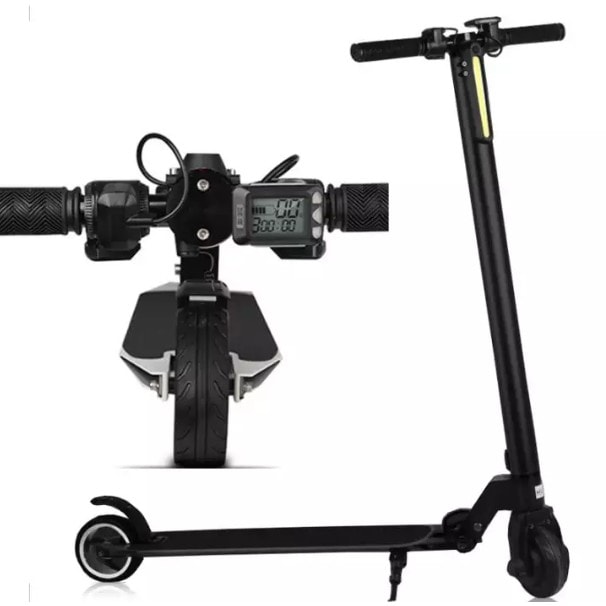 This item from GTE is the finest alternative for you if you want a maintenance-free electric scooter that is foldable and has a unique small design.
The current battery levels, current speed, total range, and gear function are all displayed on the LCD screen of this electric scooter. The scooter has three gears and can reach a top speed of 25 kilometres per hour.
The 24V high-performance and high-capacity battery life is improved - the battery life is longer, so you can enjoy it more!
The scooter's tyres are an inflated type, which is a non-slip, wear-resistant, and puncture-resistant tyre. The scooter comes equipped with a foot brake system that is simple to operate and gives you better control over the small vehicle.
The product also has a unique baffle design, so you won't have to worry about mud and rainfall splashing on your clothes when it rains. It is possible to ride in the rain and yet get at your destination on time.
When the day grows dark, you may turn on the high-powered LED lighting to make riding at night or early in the morning safer.
The folding body is light and can be stored at home angle or under the office desk!
Price: RM699
10. HX X7 Electric Scooter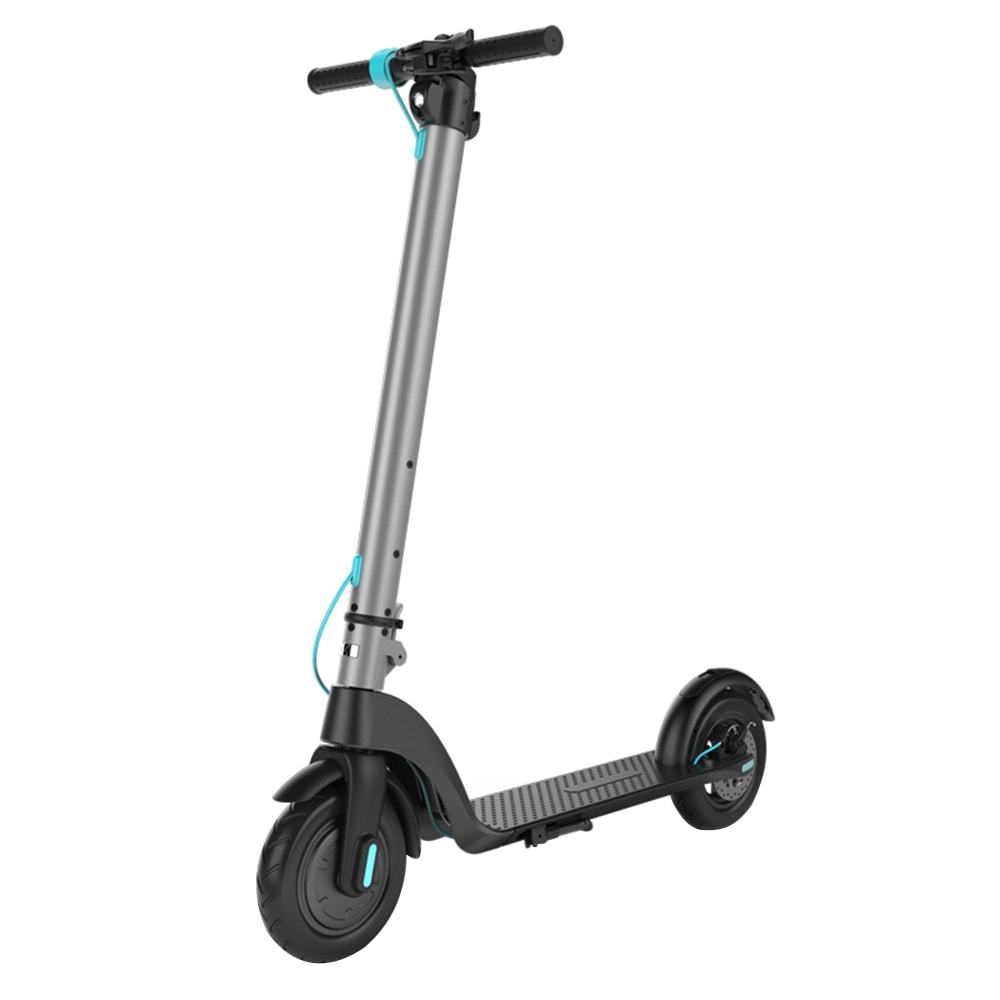 The X7 electric scooter is perfect for getting around town or having fun after work or school, this scooter can reach speeds of 25km/h with a range of approximately 40km.
The X7 is packed with safety features including LED front and rear lights as well as ABS electronic braking.
With a three-hour charge period and a detachable battery, you'll be able to achieve top speeds of up to 25 km/h in no time.
With Disc brake system and E-ABS anti-lock system. High-efficiency braking and quick response, safe and worry-free riding.
A high-definition LED screen allows you to monitor your speed and battery capacity at any moment. Long-press the throttle for more than 6 seconds to cruise at a fixed pace, convenient, and comfortable to operate. Waterproof dial design may be accelerated with a single push.
This E-Scooter is lightweight and folds in three seconds, making it more convenient to go around town.
Price: RM 1,688
11. InMotion L9 Electric Scooter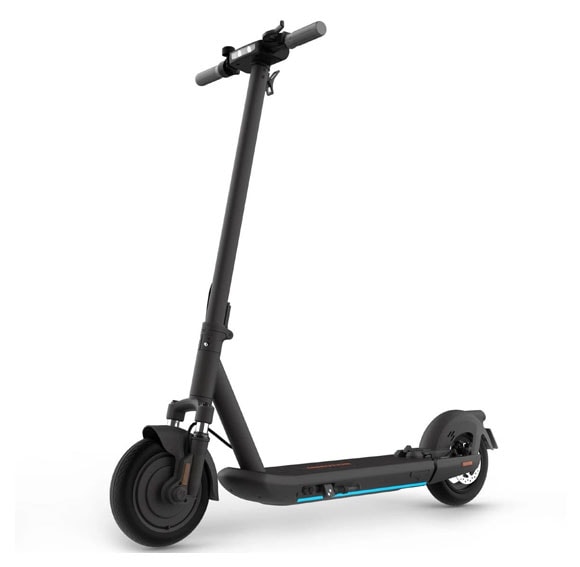 The InMotion L9 is the ideal get-on-and-go Scooter for inner-city commuters or anyone looking for a simple, no-fuss lightweight Scooter with good range and speed.
The L9 is better suited for keeping up with bike and traffic with the 40km/h jump. With the huge 675Wh battery pack, the L9 should be able to handle a round-trip commute depending on ride style, rider weight, and terrain. A unique wide LCD display reading for the current speed, battery gauge bars, automatic signaling, outstanding suspension, large 675Wh battery pack, large 10′′ front/rear tyres, bluetooth App support, dual-charging inputs, and other features are included in the L9.
The L9 is more suited to deal with road surface irregularities than similar scooters in this class, thanks to a system of front hydraulic and rear spring shocks.
Waterproofing that is superior - Unlike most other scooters, the L9 has an IP55 rating that allows it to be used in damp conditions. With a regenerative braking system and a rear physical disc brake, it has a shorter stopping distance than other models. Folding clip on the stem for better handling and carrying for transport.
Price: RM 3,388
12. Glion Dolly Electric Scooter Model 215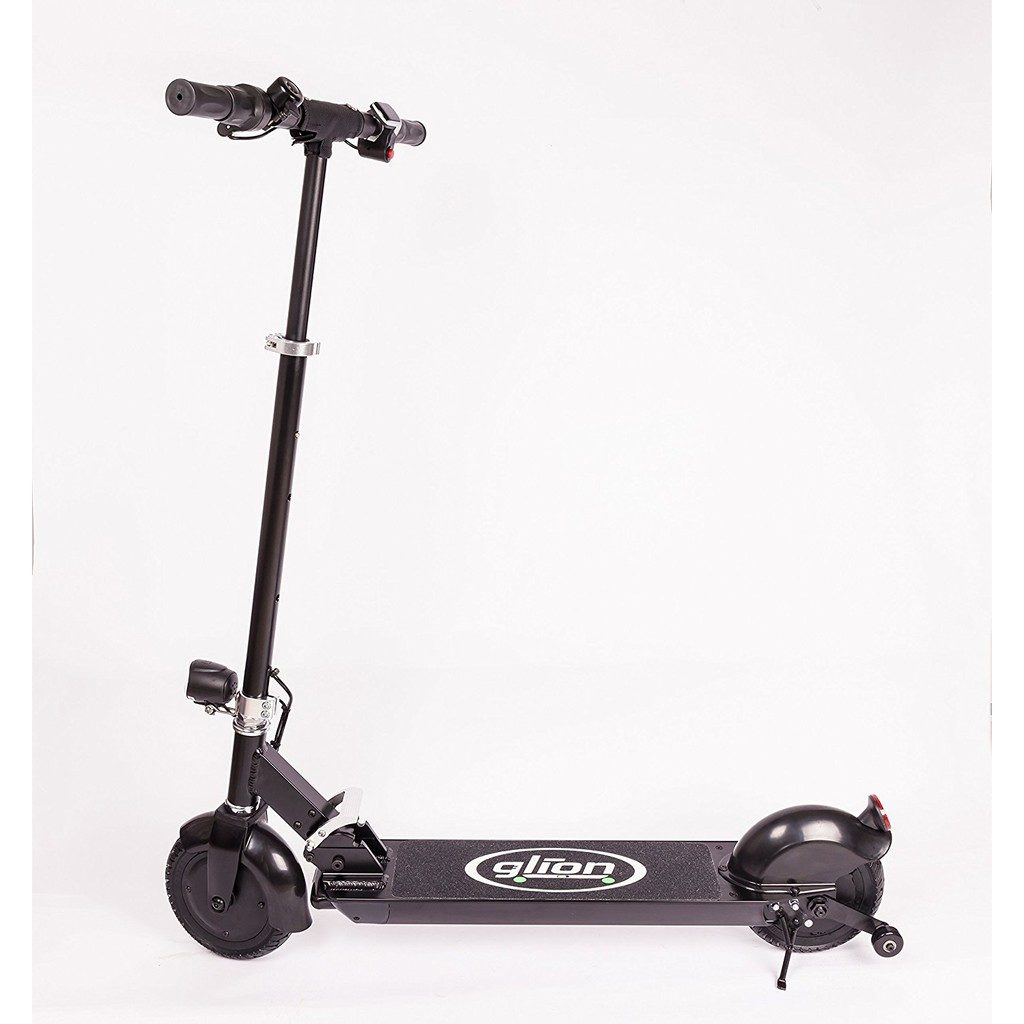 The Glion Dolly is a durable, no-frills commuting machine with a small footprint.
Dolly wheels and an extendable carrying handle help with portability. The scooter folds up into a little package with a small footprint, is easy to transport, and can stand up on its own.
This model has a 238-watt lithium-ion battery pack.
It has a 250 watt motor - the scooter takes 9.4 seconds to reach 24 kmh.
Its ultra-portability, however, it comes at a price. The scooter will be difficult to ride on bad roads and has poor controls and performance. It isn't the most appealing scooter, either.
To slow down, the Glion Dolly depends solely on a single rear electrical brake. A twist-style control is used to activate the brake. The brake operates in a binary mode, with no ability to modulate its strength. This means that the brakes are either completely actuated or not at all.
Another thing is, this scooter has no suspension. Both the front and rear tires are solid and provide no cushioning. The ride quality on the Dolly is acceptable if you are riding on smooth roads.
The Glion Dolly has a minimal cockpit area consisting of: twist-style accelerator/brakes, power button, LCD Display and mechanical bell.
It has a passive red reflector in the back and a single low-mounted front light. Though the front light can be beneficial in an emergency when you're out after dark, it's not something you should rely on.
The Dolly can climb hills reasonably well. It can climb modest slopes, but it isn't a hill-climbing machine. Even minor hills will cause you to slow down significantly. You'll have to dismount and walk the scooter up steep slopes.
Regardless, the Glion Dolly is an excellent scooter for people who frequently use crowded public transportation. This is the basis for the scooter's design. If this meets your requirements, making a purchase is a no-brainer.
Price: RM1,999
Things to Consider When Buying an Electric Scooter
Weight
When selecting an e-scooter, keep in mind the scooter's carrying weight, which affects portability, as well as the weight limits for riders. Consider your daily commute and how much weight you can lift up the stairs or keep firmly on the bus.
Range
The range of a scooter refers to how far it can travel before running out of battery power. The range of your electric scooter is determined by a number of parameters, including the motor's power, the rider's weight, the scooter's weight, the weather, the mode, and the average speed.
If you're commuting long miles on your electric scooter, you'll want to make sure that a full charge will at least get you there.
Brake
When riding an electric scooter, a good braking system is vital for staying safe and in control. Brakes are used to slow down an electric scooter. There are two types of electric scooter brakes: mechanical and electrical.
Mechanical brake systems, which include foot, drum, and disc brakes, rely on a physical mechanism to slow the scooter down.
Electronic braking systems, which include both pure electric and regenerative braking systems, rely on the motor itself to provide braking. The weakest brakes are electric and regenerative brakes. If you're going fast and need to stop quickly, these won't suffice.
Mechanical braking systems will offer much stronger braking than electronic systems. However, electronic systems benefit from not requiring any periodic adjustments or maintenance. Many scooters will have a combination of both electronic and mechanical braking systems.
Speed
Speed demon, how fast do you want to go? When answering these questions, make sure to choose a scooter that can keep up with you, but also evaluate weather conditions and safety. Most electric scooters have a top speed of roughly 32km/h, but you may not have to go that fast.
Motor power
You should choose an electric scooter with a power output of at least 250 watts. That should be plenty to get you across flat terrain and up short hills. For someone who lives in a region with a lot of hills, a scooter with dual engines or a more powerful single motor will be a better choice.
Lighting Make sure your e-scooter has adequate lighting to protect your safety. You can always buy more lights for your e-scooter, but the top scooters already have excellent lighting. After-dark riding necessitates the use of both front and rear lights.
Suspension
Suspension, like that used in cars, smooths out bumps and indentations in the road while also improving ride quality. You will feel every bump if you don't have it, especially if you have solid (airless) tyres. Consider acquiring a scooter with suspension if your commute is longer or includes tough terrain.
Tyres
Tyres come in two types: solid (airless) tires and pneumatic (air-filled) tires.
Solid tyres are inferior to pneumatic in every way except they have virtually no maintenance required. When riding on solid tyres, you're more likely to feel every bump and even stumble over lines of paint on the road.
Pneumatic tyres give better ride quality (with or without suspension) and their supple rubber performs much better in adverse road conditions. Pneumatic tyres have the advantage of shock absorption and better handling.
Conclusion
Each electric scooter has its pros and cons so make sure to do your research! Also keep in mind of all the features stated above to ensure the right e-scooter for your personal lifestyle.
The electric scooter is already a common sight throughout the city. It enables you to move about swiftly and in the most efficient manner possible. It will be easy for you to commute throughout the city if you own one of the top electric scooter Malaysia listed above!
The popularity of Xiaomi Air Purifier products has skyrocketed. The Xiaomi Air Purifier 3H and 3C have become more popular, and they have many models. Though, they have advantages and disadvantages in comparison to one other, despite their close resemblance.
We'll be touching on the features and differences of the Mi Air Purifier 3C and 3H.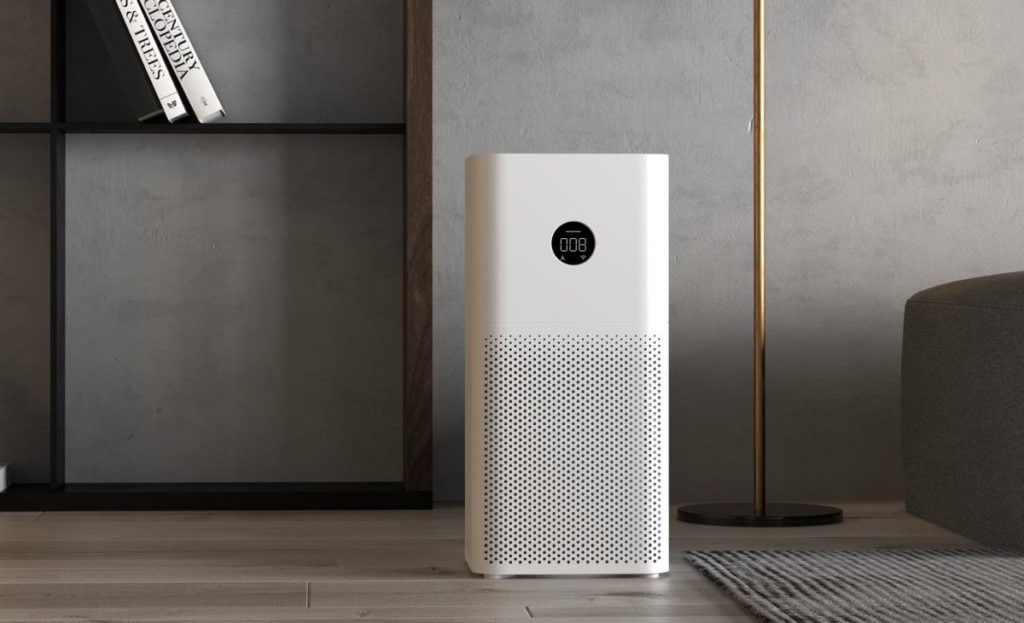 The highly efficient three-layer filter core with built-in High Efficiency Filter can achieve a PM CADR of up to 320 m³/h, and, together with the 360° air duct circulation system, purifies at a high speed for long-lasting purified air.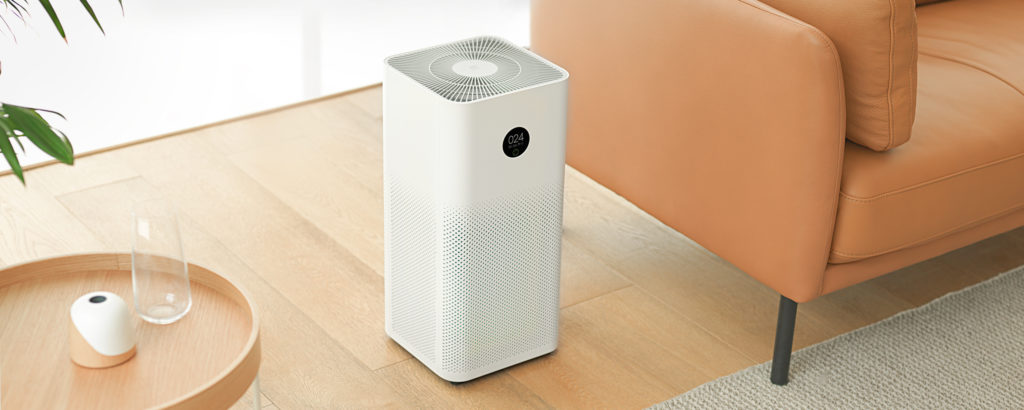 This later model was to improve performance while preserving the purifier's classic appearance.
Their engineers redesigned the entire air duct system to increase the air purifier's PM CADR by 22%* to 380 m³/h.
Design
The Xiaomi air purifier is a minimal device, white in color except for the gray grilles on top and black display. It easily fits into almost any environment.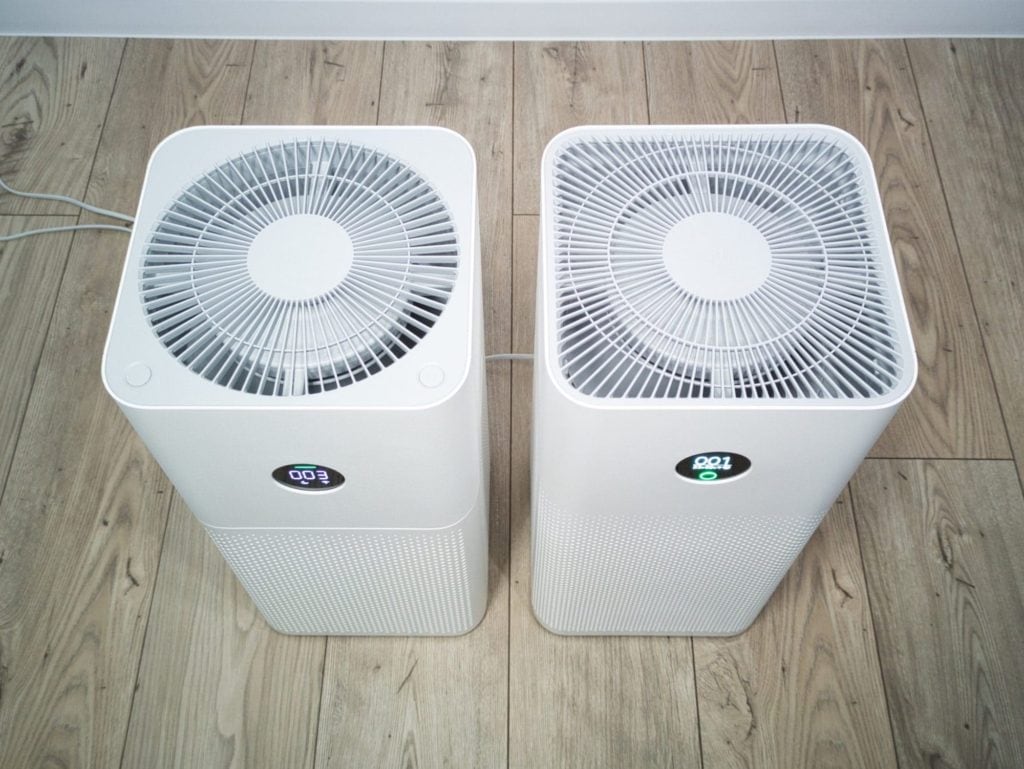 There is almost no difference in size between the models. They have the same dimensions but the slight difference in design is that 3C model can give air from 4 sides and the filter cover is above. This design makes it convenient to replace filter.
The panels on the 3H stretch from the bottom of the air purifier to the top. The Mi Air Purifier 3C features a two-chamber design. The filter in the 3H can be changed using a door on the backside, while the top part of the 3C can be removed to gain access.
3H model uses a circular filter, the device is not open on all sides. The top of this air purifier covers a full filtration area. The holes are arranged on three sides, on all sides except the back (filter cover). The air is then filtered and exits through a grill at the top of the device.
Filter
As an air purifier Mi Air Purifier 3C relies on a HEPA filter like most Air Purifiers in general. The cylindrical HEPA filter it carries is able to remove 99.99 percent of particles up to 0.1 micron in size floating in the air such as dust, cigarette smoke, pet dander, bacteria, viruses, and odors.
To clean the air, Mi Air Purifier 3C carries the Clean Air Delivery Rate feature which can supply 320 cubic meters of clean air per hour without making any noise.
3H also uses a 3-in-1 True HEPA filter, which comes with the device. 3H uses an Integrated 360 ° cylindrical HEPA filter that effectively removes PM2.5, formaldehyde and other harmful substances.
App feature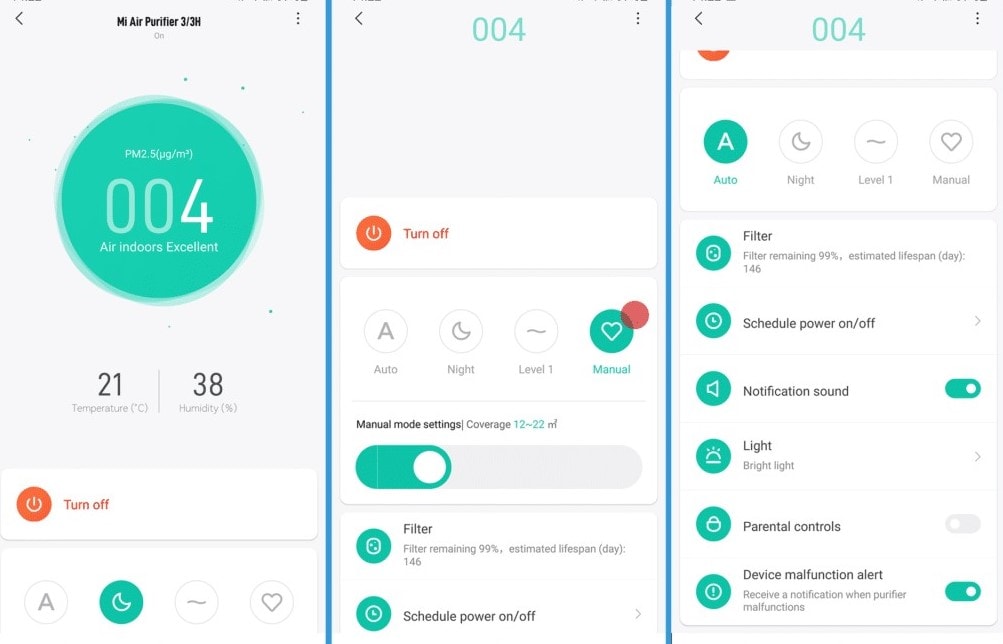 A WiFi connection is also included with the Mi Air Purifiers. Even the Mi Air Purifier may connect to the Google Home smart device ecosystem thanks to a WiFi connection. When its linked to Google Home, we can use voice commands to control the virtual assistant Google Assistant.
The cleanliness of the air can be seen through the App. The indicator is a coloured line with a number that shows the amount of pollutants (PM 2.5) in the air in the room. The level of cleanliness of the room is indicated by three colour lines: Green indicates excellent air quality, orange indicates light to moderate pollution, and red indicates bad air quality.
Room Size
The size of the space that an air purifier can clear is perhaps the most significant factor to consider when finding the right air purifier.
The 3C has a coverage efficiency of 40 m². The 3H model can be effective in 50 m² areas. Of course, it can be used in larger areas, but the effect will be reduced and it will clean the air around it.
Screen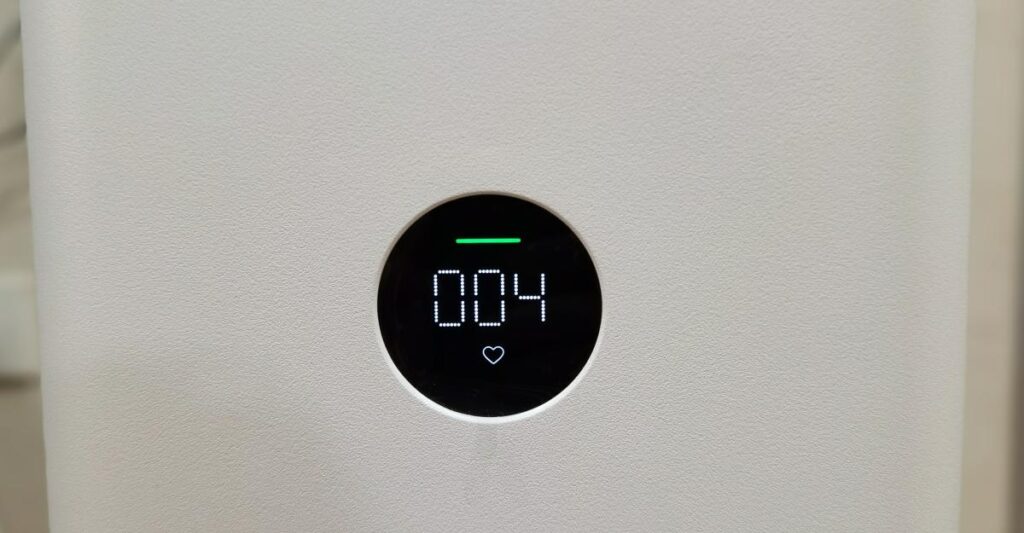 The 3C model is a screen model, but the screen does not have a touch feature. In addition, the information presented on the screen contains less data than the application, as in the 3H model. It also doesn't have a temperature or humidity sensor to track.
3C has a dash LED display.
The digital LED display shows precise real-time information for PM2.5 values, Wi-Fi status and operating mode. The tri-color light ring can be used as a high-speed reference for the indoor air quality, providing a clear picture of the quality of the air that you breathe.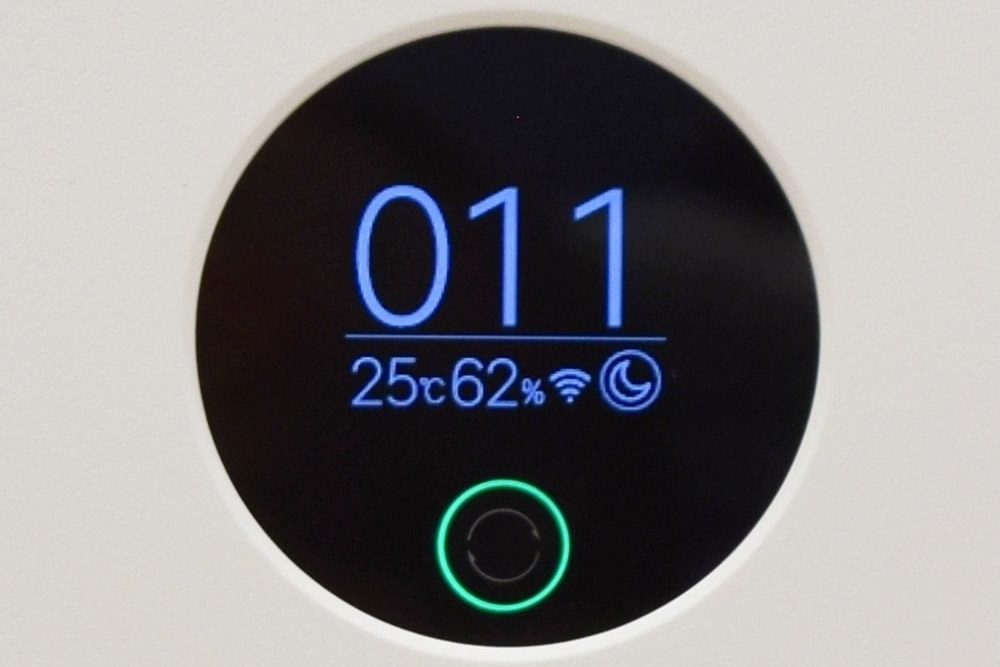 The Xiaomi Air Purifier 3H screen is touch-sensitive. And gives more feedback. The information on the screen is designed in a more user-friendly way. Thanks to the touch screen, you can switch between modes directly from the screen. Still, the data on the screen does not give as wide information as the data in the application.
3H has a circle LED indicator.
Simply tap the keys on the OLED display to work the purifier, and the reported info is viewable at a glance. Monitor the room air quality data, the purifier's operational status, etc, are all displayed clearly. The tri-colored light ring quickly tells you the quality of the air in the room.
Modes
The Mi Air Purifer 3C operating mode relies on three modes, namely Auto, Sleep and Favourite.
While 3H has 4 modes: Manual, Auto, Sleep and Favourite mode.
Manual mode works by adjusting the room coverage, and in this way, the device itself adjusts the engine speed.
Specifications
| | | |
| --- | --- | --- |
| | Mi Air Purifier 3C | Mi Air Purifier 3H |
| Model | AC-M14-SC | AC-M10-SC |
| Dimension | 240 x 240 x520 mm | 240 x 240 x520 mm |
| Weight | 4.6 Kg | 4.8 Kg |
| Colour | White | White |
| Effective Area | 106 m2/h | 126 m2/h |
| PM CADR (Particles) | 320 m³/h | 380 m³/h |
| Noise range | 31~61 dB | 33~64 dB |
| Rated Power | 29 W | 38 W |
| Rated Voltage | AC100-240V~ | AC100-240V~ |
| Smart control | Yes | Yes |
| Modes | 3 | 4 |
Result
The Xiaomi Mi Air Purifier has shown to be an excellent air purifier for purifying the air at home. It is also perfect for everyday usage because to its utilitarian design, ease of use, low power consumption, and silent performance.
As far as we can tell, the solution to the Xiaomi Air Purifier 3H vs 3C question depends on your preferences. Both of them produce high-quality and clean air. In terms of filtering and cleaning, there is no difference.
Nonetheless, the Mi air purifier 3C stands at RM399.00, while Mi air purifier 3H is at RM589.00.
Whichever suits your environment and lifestyle more, should be the one you choose!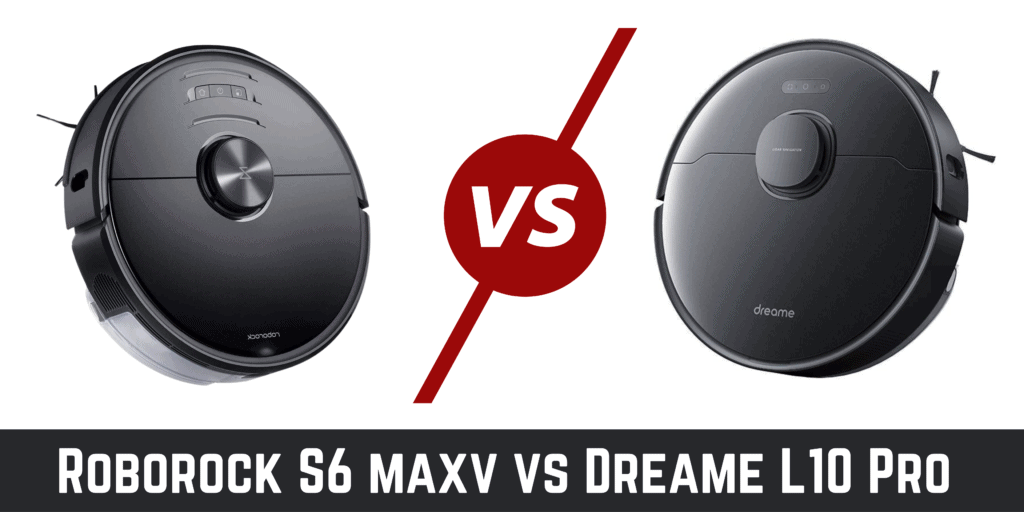 Since the first robot vacuum cleaners were introduced to the market around the turn of the century, the number of people owning robot vacuums and floor cleaners has steadily increased. Millions of unit have been sold around the world, and the trend is expected to continue as technology advances.
No more tedious vacuuming! Thank goodness we have robot vacuums to do the work for us.
You can find many different models from various brands. Endless options. In this article, we'll be talking about Roborock S6 MaxV and Dreame L10 Pro Robot Vacuum. We'll be comparing the features they each possess and whether or not its worth the investment. We'll be mentioning the important details and how well it functions as a robot vacuum at tackling in cleaning your space.
---
First we have is the Dreame L10 Pro Robot.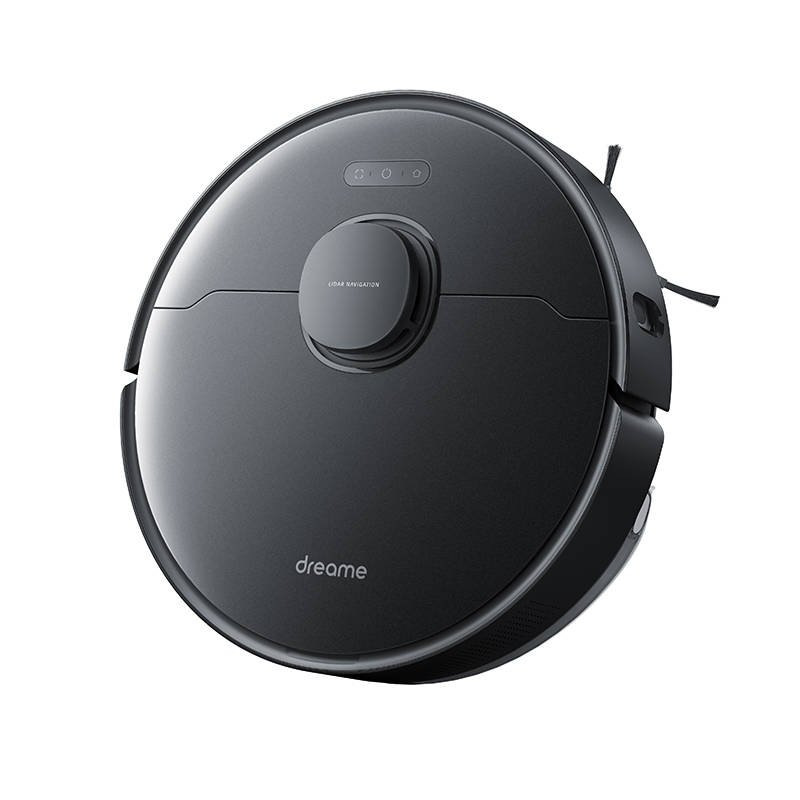 It delivers a suction power of 4,000Pa, which is substantially stronger than most other bots in its price range. The dust tank capacity uses 570ml to store more dust on the go, and it has a decent sized water tank at 270ml capacity.
The L10 Pro Robot uses a high-precision 3D scanner and navigates through its lidar sensors which helps it to efficiently clean in straight lines whenever there's a clear path, but the two lasers it employs do indeed help with avoiding obstacles.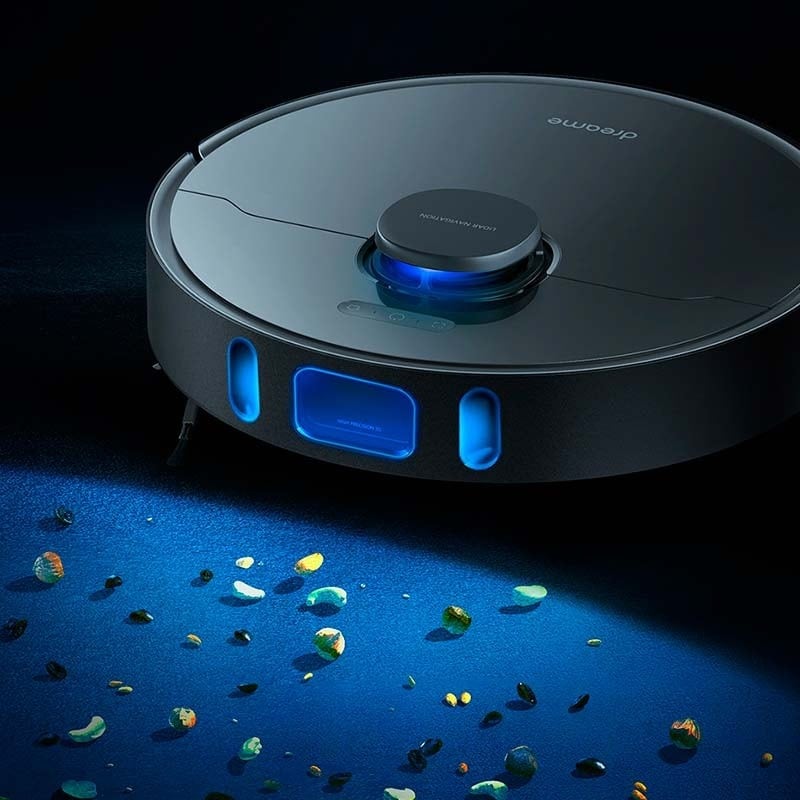 This robot is great at maneuvering around obstacles. You can rest assured that your home won't be messed up after this robot vacuum for its advanced navigation skills.
On top of that, there are four suction levels to choose from which allows it to work up to 2.5 hours or reduce the working noise to 65dBA.
When it approaches the carpet, the L10 Pro kicks into overdrive and amps up the suction to its max rating.
L10 uses the Xiaomi Home app, and the robot connects to it quickly - easy set up for cleaning schedule, cleaning zones, cleaning power, mopping water volume, and setting virtual walls. You can also store maps from different floors.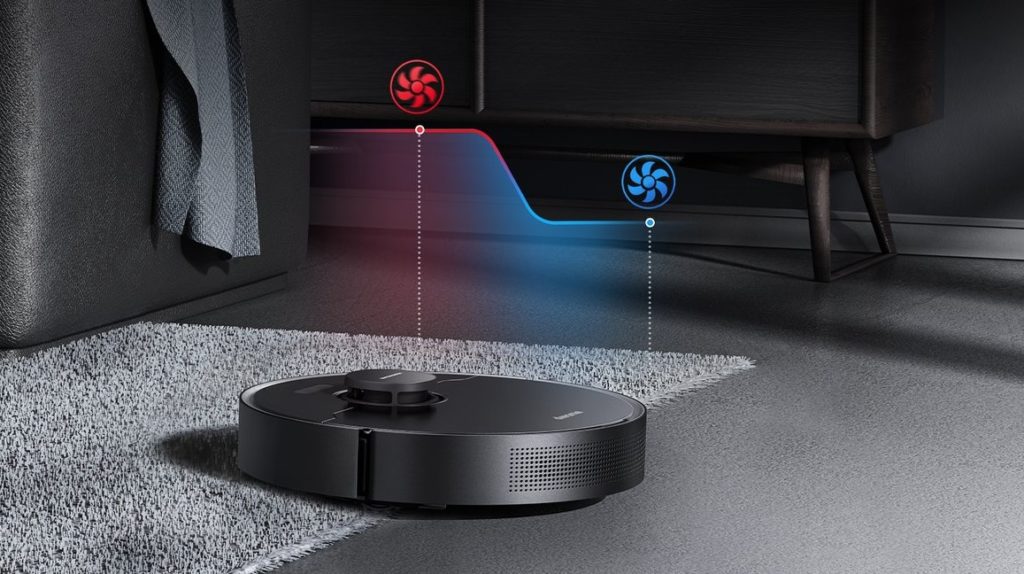 You have the option of cleaning the floor once or twice, depending on how unclean it is, for getting a more comprehensive clean.
In the app, the robot is responsive, and the robot's speech is pleasant and accurate. If you want, you may use your voice assistant to control the robot manually. LIDAR technology ensures that the robot is always aware of its charging dock's location and will swiftly return.
The motor is quiet and well-balanced, and you won't notice it after a while. The robot's wheels don't squeak, so it's easy to forget it's running!
---
On the other hand, we have its competitor, Roborock S6 MaxV.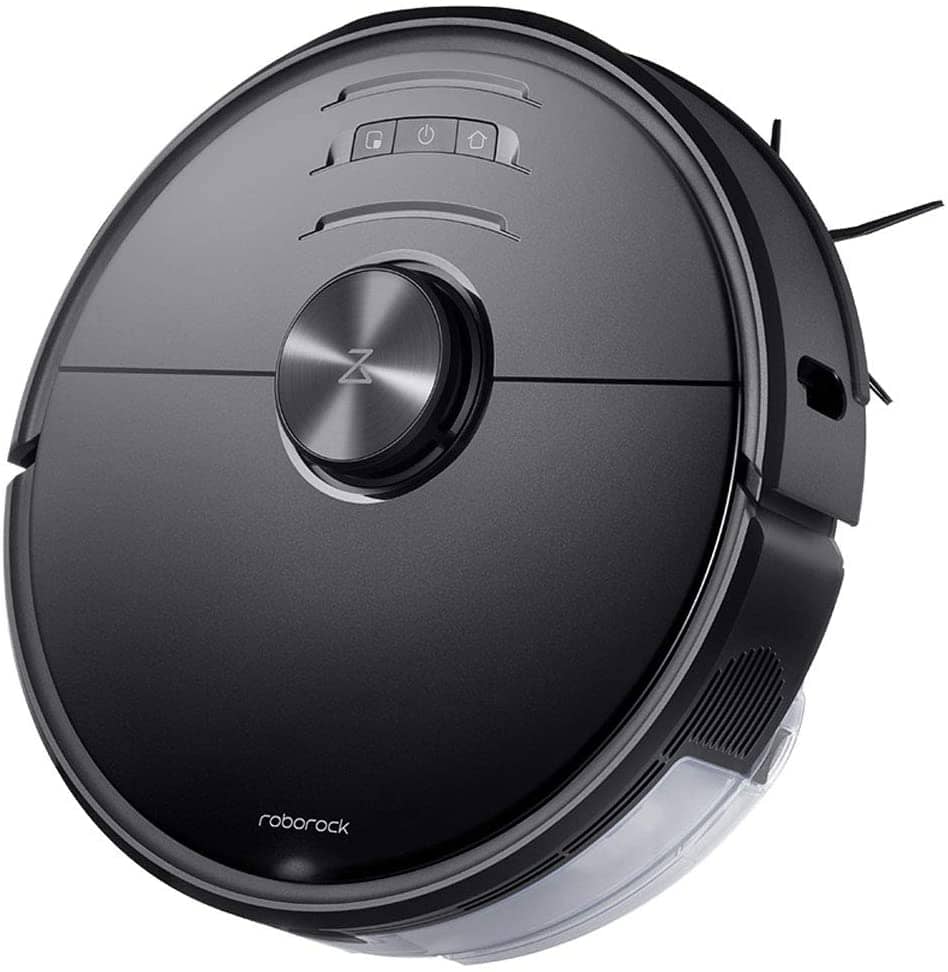 The Roborock S6 MaxV can vacuum and mop, and everything you need to ensure a clean home.
It has a Qualcomm APQ8053 CPU processor with 2,500Pa of suction and an AI-based obstacle avoidance capability.
The S6 MaxV boasts an advanced obstacle avoidance feature dubbed ReactiveAI designed to prevent it from getting stuck on things. It uses two cameras and on-device artificial intelligence image processing to spot obstacles, estimate their size and location, and automatically navigate around them. The cameras work together to capture detailed images at a maximum speed of at 30fps.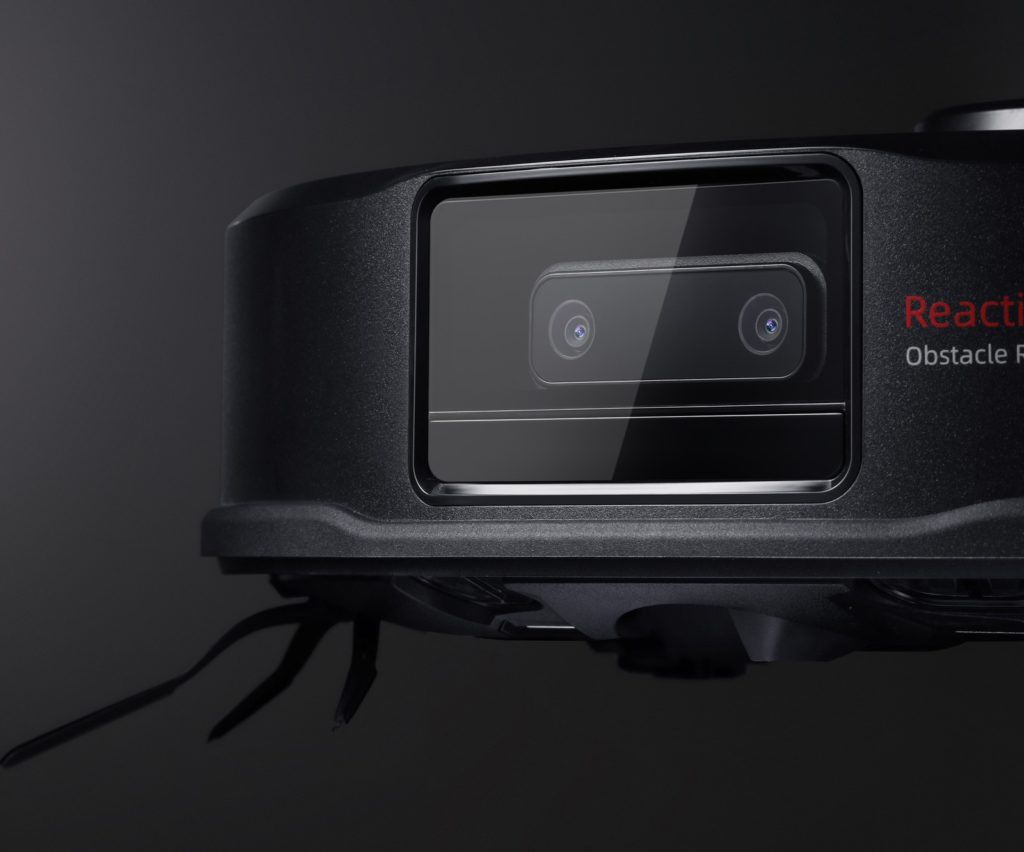 The system then uses a convolutional neural network trained on thousands of real-world pictures to process images captured by the robot's cameras.
It occupies a space of 295ml water tank. In the user manual, Roborock says you should vacuum your floors at least three times before mopping to avoid excessive buildup on the mop.
The S6 MaxV has a large 458ml dustbin is large enough to allow for several cleaning jobs before it needs emptying. Its only recommends cleaning the dustbin and main brush weekly, and the washable filter every two weeks.
Other features include app and voice control, scheduling, and zone cleaning, as you'd expect from a high-end robot vacuum.
It runs at 67dB in Balanced mode. In Max and Turbo modes, it's louder.
In the Roborock app, you can save up to four maps if you have different levels in your home, and create virtual No-Go and No-Mop Zones, so the robot will avoid certain areas.
As the S6 MaxV works, it creates a map of your home in the Roborock app on which you can see its exact cleaning path.
There's a Cleaning History section that shows details of each job, including a map of the robot's route.
Through the Carpet Mode feature in the app, you can enable the setting and the robot will automatically increase its suction power when it detects carpet.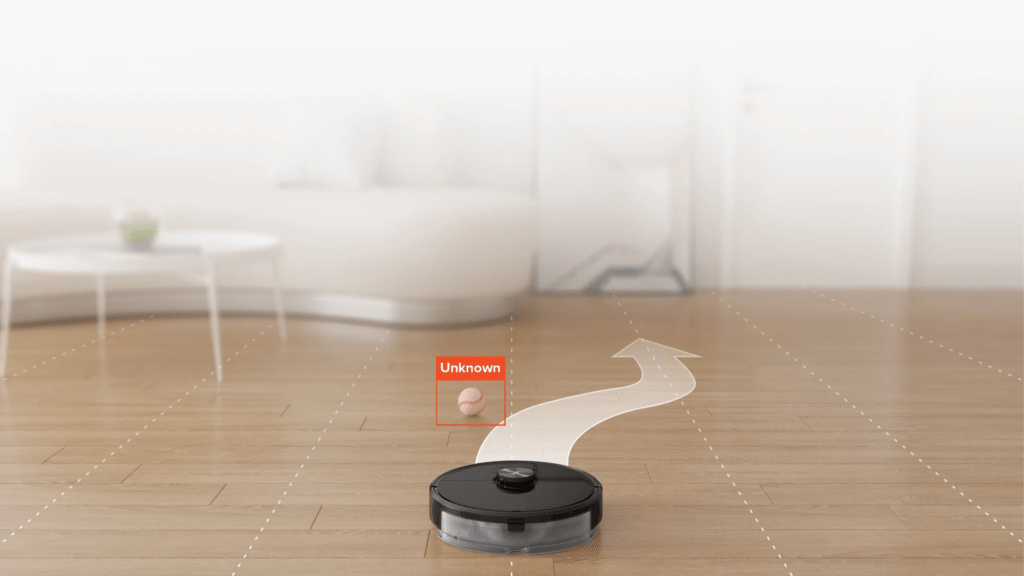 An issue that customers say is that the ReactiveAI obstacle avoidance feature was hit or miss.
Aside from these issues, the S6 MaxV does an excellent job sucking up crumbs, dirt, dust, and hair and mopping from the floors.
---
Specifications
Basic technical data
| | | |
| --- | --- | --- |
| | Dreame L10 Pro | Roborock S6 MaxV |
| Brand | Xiaomi | Roborock |
| Model | L10 Pro | S6 MaxV |
| Weight | 3.7 Kg | 3.7 Kg |
| Suction Capacity | 4000 Pa | 2500 Pa |
| Noise level | 65 dB | 67 dB |
| Material | Plastic | Plastic |
| Dimensions | 35 x 35 x 9.6cm | 35 x 35 x 9.6cm |
| Launch year | 2020 | 2021 |
Features / filters
| | | |
| --- | --- | --- |
| | Dreame L10 | Roborock S6 MaxV |
| Colour | Black | Black |
| Mopping function | Yes | Yes |
| Type of vacuum cleaner | Electronic | Electronic |
| Over-the-air upgrades | No | Yes |
| Smart top up | No | Yes |
Battery and power supply
| | | |
| --- | --- | --- |
| | Dreame L10 Pro | Roborock S6 MaxV |
| Battery type | Li-ion | Li-ion |
| Battery life | 2.5 hours | 3 hours |
| Power source | Rechargeable battery | Rechargeable battery |
| Battery capacity | 5200 mAh | 5200 mAh |
| Rated power | 66 W | 66 W |
| Voltage | 100-240 V | 100-240 V |
Communication
| | | |
| --- | --- | --- |
| | Dreame L10 Pro | Roborock S6 MaxV |
| Mobile App | Mi Home App | Roborock/Mi Home App |
| Wi-Fi | 2.5 GHz | 2.5 GHz |
| Connection type | Wi-Fi | Wi-Fi |
| Smart home | Yes | Yes |
| Voice control | Yes | Yes |
Cleaning and filtering
| | | |
| --- | --- | --- |
| | Dreame L10 Pro | Roborock S6 MaxV |
| Main brush | Removable main brush | Removable main brush |
| Dust bin capacity | 570 ml | 460 ml |
| Cleaning | Dry and Wet | Dry and Wet |
| Water tank capacity | 270 ml | 290 ml |
Features
| | | |
| --- | --- | --- |
| | Dreame L10 Pro | Roborock S6 MaxV |
| Navigation | LDS + Dual-line LiDAR + Obstacle Identification | Reactive AI + Dual LiDAR camera + Stereo camera |
| Map saving | Yes | Yes |
| Multi-level mapping | Yes | Yes |
| Run time | 150 minutes | 180 minutes |
| Airflow | 11.33 CFM | 15.68 CFM |
| Virtual wall | Yes | Yes |
| Carpet pressurization mode | Yes | Yes |
| Recharge & Resume | Yes | Yes |
---
Comparison & Conclusion
Visually, they look identical of one another. From the semi glossy plastic chassis to how the mopping attachment fastens to the bot, the design isn't unique enough to be distinguishable from the pack.
In terms of features, the Roborock S6 MaxV has many of the bells and whistles you expect in a high-end 2-in-1 robot vacuum and mop—with a price to match.
As for obstacle avoidance, the Dreame L10 does an overall better job at avoiding items and maneuvering than S6 MaxV. Household items like socks, cables and water bottles is something the Dreame L10 is better at avoiding while the S6 MaxV struggles in certain aspects.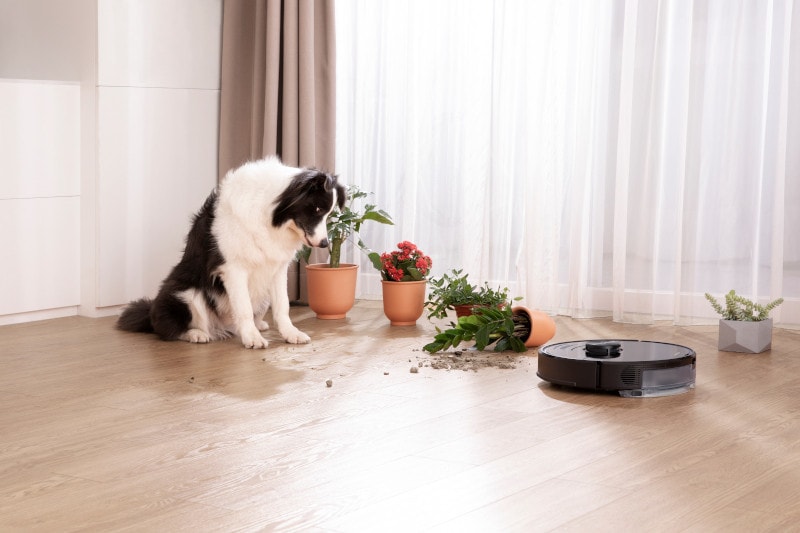 Both models share similar vacuuming and mopping results even on carpets. Although technically, Dreame L10 has a higher suction power of 4000 PA than S6 MaxV 2500 PA.
Judging on the prices, Dreame L10 costs RM1,399 and S6 MaxV stands at RM2,550. For a similar outcome, your money is more worth for the L10.
S6 MaxV AI-based obstacle avoidance technology isn't as reliable as it should be for the price.
With S6 MaxV additional camera sensors, it's inability to identify cliffs and certain spots/objects makes it questionable compared to its overall performance to the Dreame L10.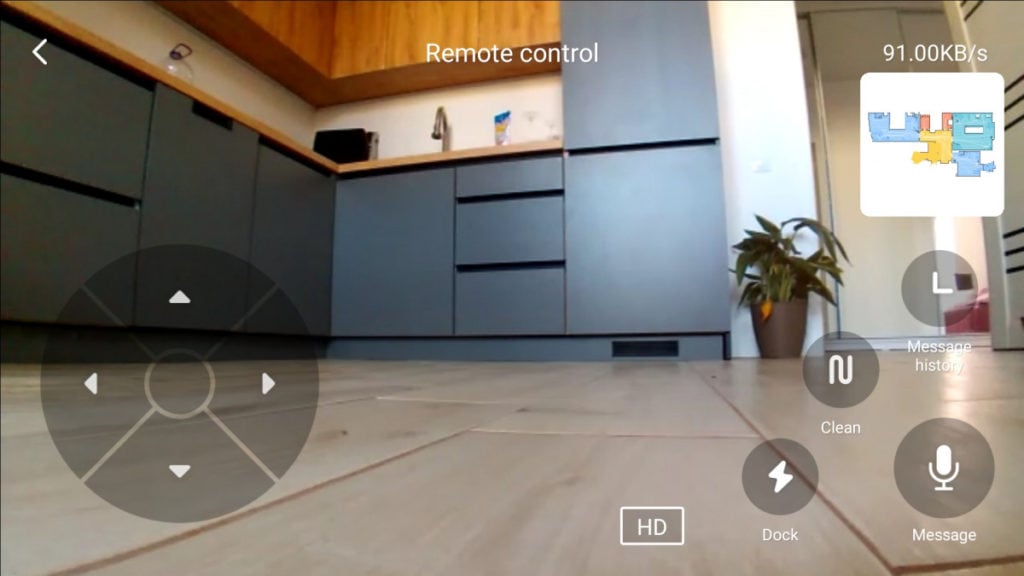 It's interesting to know that both brands are Xiaomi partners. If Xiaomi is known for its good value price, this is also the case of its partners. But, the Dreame proposition is better when it comes to comparing the equipment for the value.
The Dreame L10 two-in-one mopping and sweeping robot that has voice control, scheduling, and object avoidance totally outworks the competition.
If you're thinking of getting a robot vacuum, choosing the Dreame L10 should be the go-to choice. Looking at a robot vacuum that does the job well is more ideal than having unnecessary features that wont be in use. Paying extra for the same results, it seems to be unreasonable.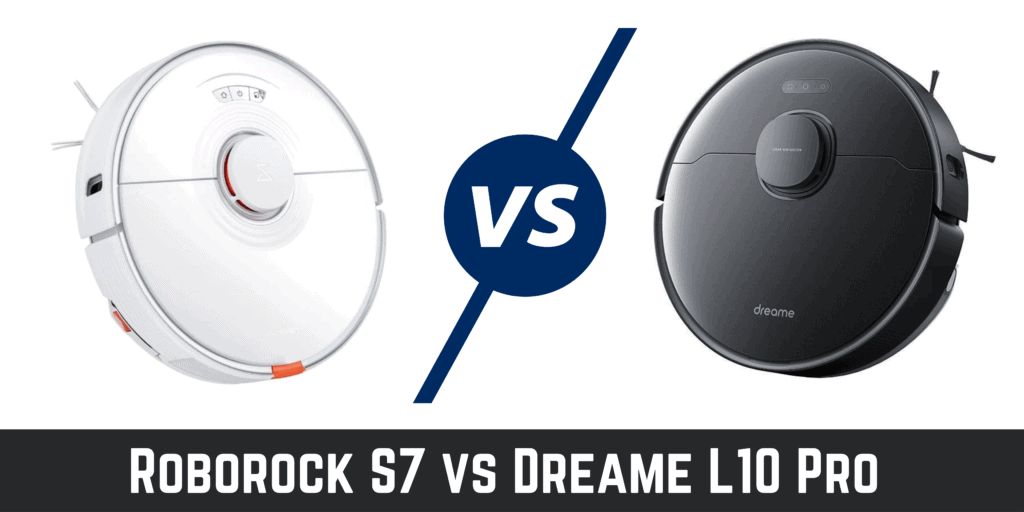 In this article, we'll be discussing the new Roborock S7 and the famous Dreame L10 Pro. We'll compare the features they each have and determine whether they're worth the money. We'll go over the main aspects and how well it works as a robot vacuum cleaner in cleaning your home.
Introduction of vacuum robots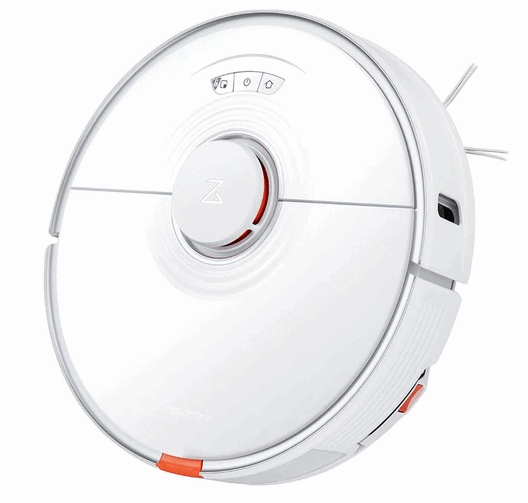 This Roborock S7 is more than just an upgrade, with a redesigned mopping module, a new brush roll design, plus the lift feature that automatically raises the pad when it detects carpet.
The new vibrating feature introduced in the S7 adds an agitation facet absent in previous Roborock robots. Instead of just dragging a wet pad on the surface, a second motor vibrates up to 3,000 times per minute.
Regardless, most of the S7 upgrades are geared toward improving its mopping functionality.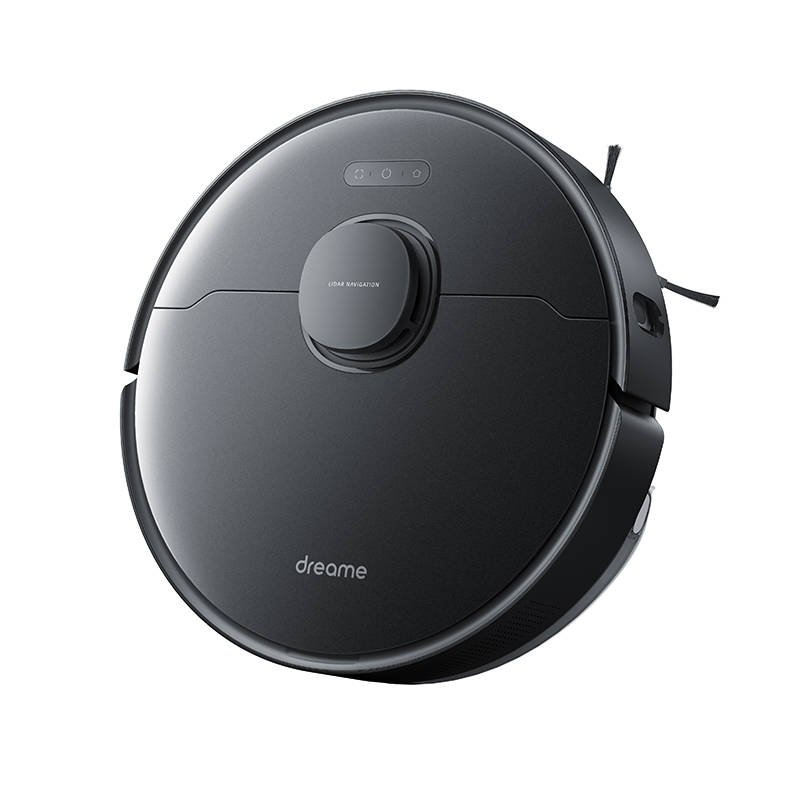 Many robotic vacuum cleaners have issues with obstacle avoidance where the camera sensors don't work to an extent. Dreame L10 Pro aims to solve this issue.
The most significant upgrade Dreame put in the L10 Pro are the three front laser sensors, enabling this robot to avoid objects better and reduce blind spots. Using a laser sensor provides better accuracy than a camera, and it doesn't rely on light.
Navigation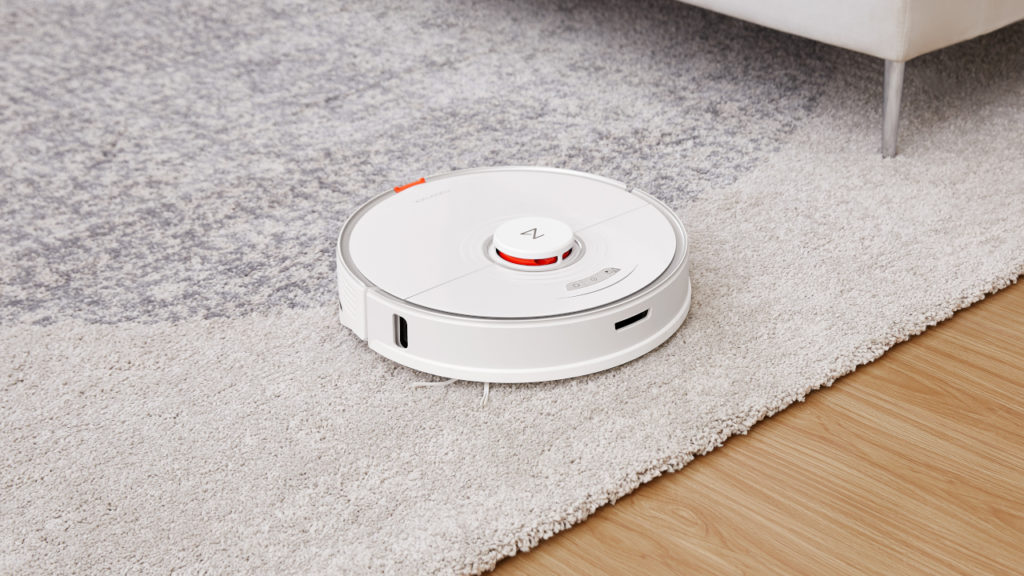 Both robots utilize LIDAR and SLAM for navigation, meaning it relies heavily on a laser sensor to track its location. One advantage laser has over a camera-based sensor is its non-reliance on a light source.
You can use these robots even in pitch black conditions! Robots that rely on cameras can't do this.
These robots are quite efficient in this regard, and they are among the best at maneuvering in tight spaces.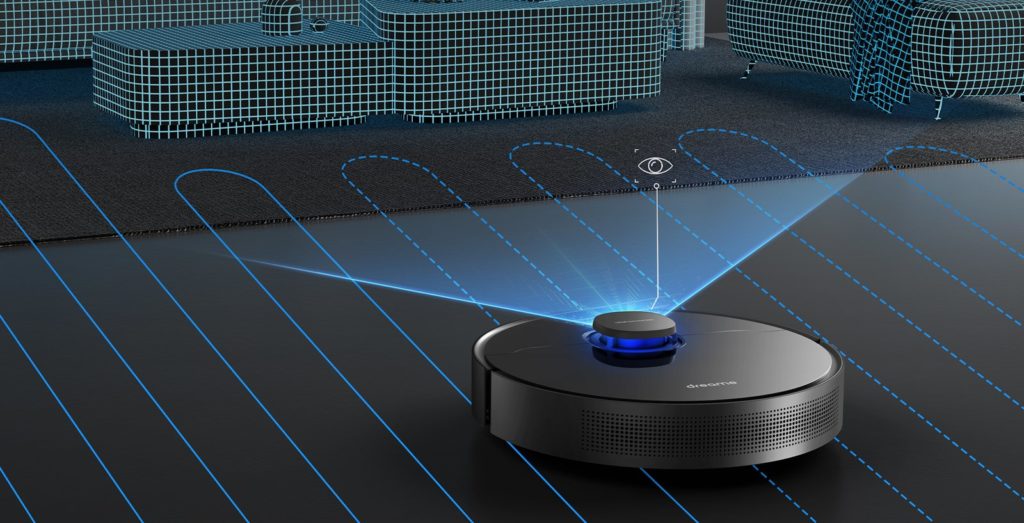 Dreame L10 features three individual laser sensors in front of the robot that detects and evades objects.
However, a problem that may arise isn't the laser sensor but the side brush, which exceeds the laser's field of view.
Design
Dreame L10 has an all-black, semiglossy finish. It has a round frame and a top-mounted dust bin.
The Roborock S7 doesn't break any new design ground - Sharing the same look with Dreame L10. Except it can be found in white or black.
Water tank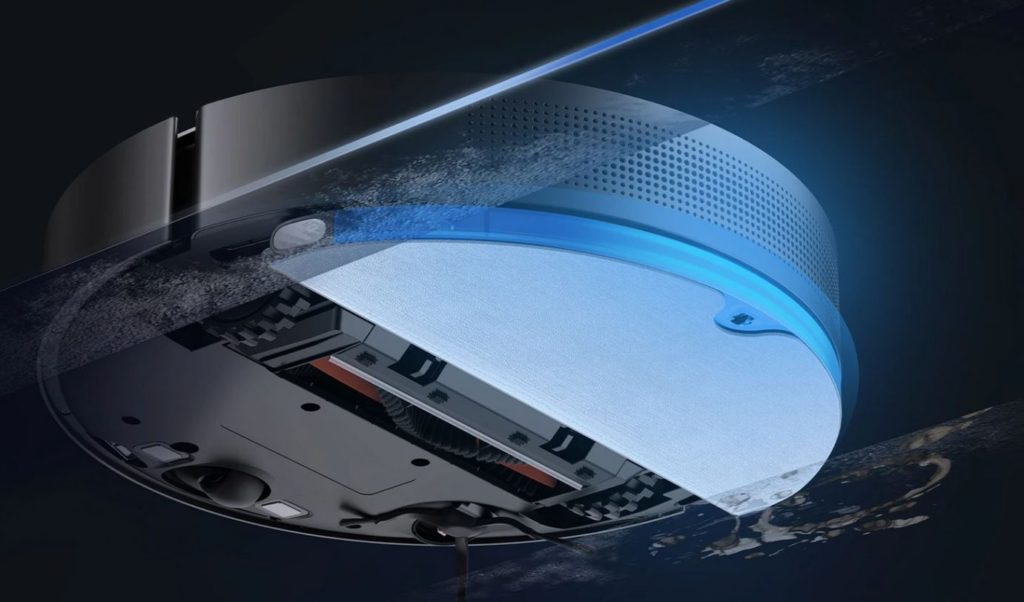 Dreame L10 has a rear-mounted electronic water tank - holding 270ml of water capacity.
Unfortunately, it doesn't have any form of agitation, only dragging a damp pad on the surface. This robot is best suited for light-duty mopping.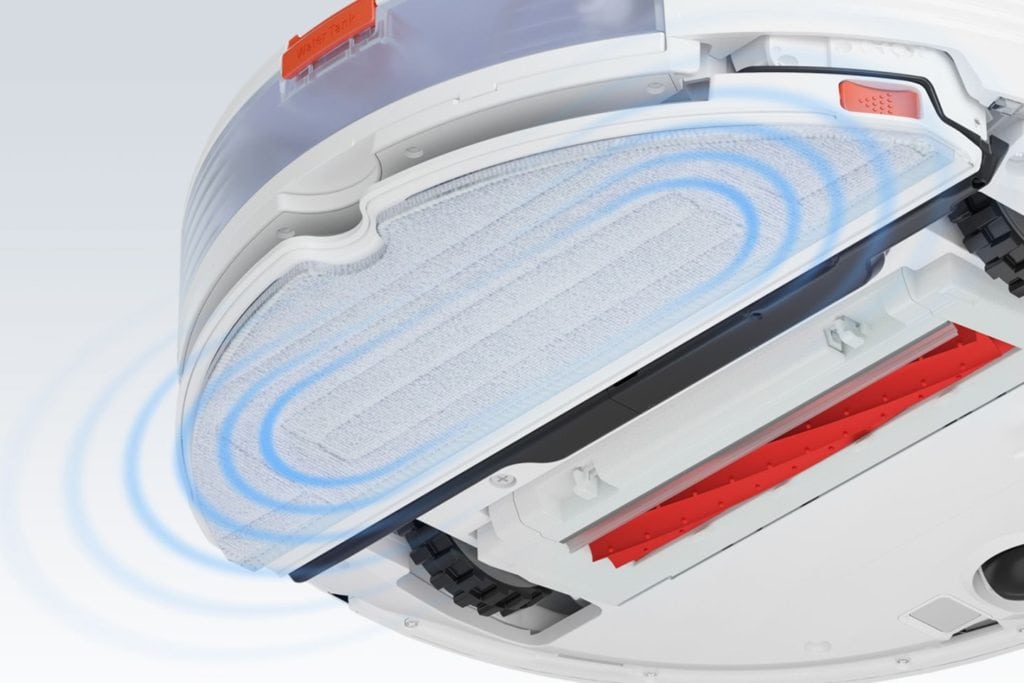 The S7 electronic water tanks still load from the rear and get a slight bump in volume – up to 300 ml. The S7 cleans methodically, outlining the edges of a room, then working in an S-shaped pattern. It also uses a vibrating mopping pad that moves up to 3000 times per minute.
Dust bin
L10 Pro has a large dustbin - It can hold up to 570 ml of dry dirt. So you can get multiple uses out of it. Disposing of dirt is fairly easy with the front-mounted door.
S7's dustbin still loads from the top, but with a slight increase in capacity – up to 470 ml.
Both model uses HEPA filter that are washable!
S7 offers an additional option for auto-emptying so that's up to you if you want to purchase the feature.
Power & Noise level
Dreame L10 has 4000 Pascals of suction and a noise level of 65dB. On the other hand, S7 has 2500 Pascals of suction and noise level of 69.8 dB which means its on the noisier side.
Carpet cleaning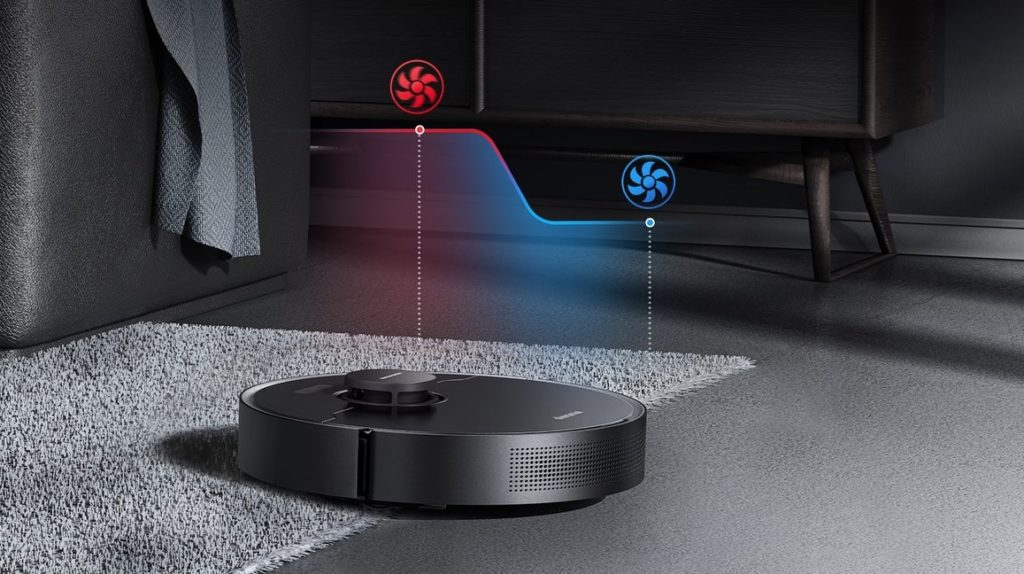 When it approaches the carpet, the L10 Pro kicks into overdrive and amps up the suction to its max rating.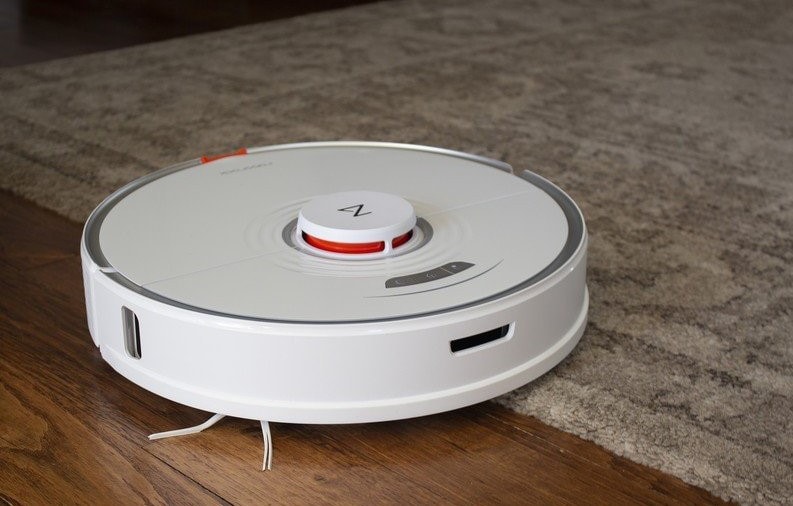 S7 uses a new mop lifting system that lifts the pad (5mm) when it detects carpet.
Both models states that it works better on low pile carpets instead of a thick pile.
App features
Dreame L10 is compatible with Xiaomi app.
S7 is compatible with Roborock app.
They both can be controlled by voice assistance and the smart home application, Mi Home app.
Live Map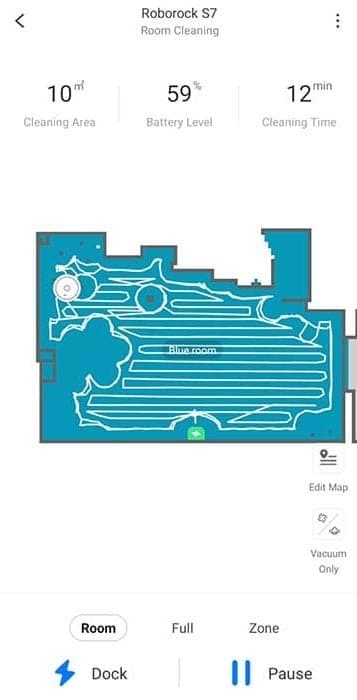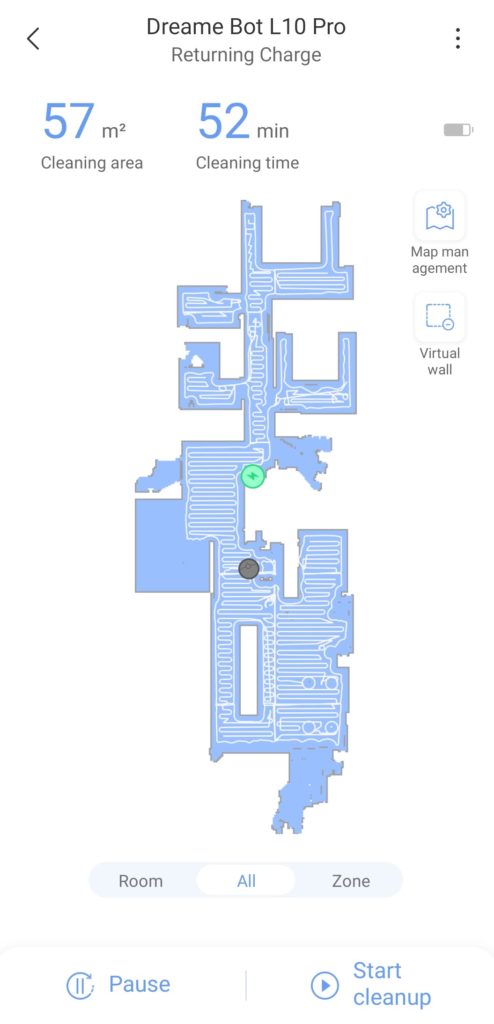 These robots provide users real-time data of the robot's exact location. You can see where the robot is on the map at a glance.
Map saving
Dreame L10 Pro Users can save up to two map levels and Roborock S7 can save 4 map levels
Users of both models can customize each area as they see fit with as many invisible walls, no-go zones, or no mop zones as needed.
Zone cleaning
This feature is similar to selective room cleaning but with more control – by drawing rectangular or square on the map, where the robot will proceed and clean the area. Convenience!
L10 and S7 share this.
Containment
The invisible walls - Having these options provide users with a multitude of options to block off-limit areas.
You can find this in their respective mobile apps.
Unlimited scheduling
Where users can set as many runs per day with the option to select time, water flow, and power setting options.
You can also choose a specific room that needs cleaning.
Thankfully, the two robots allows you to do this.
Accessory usage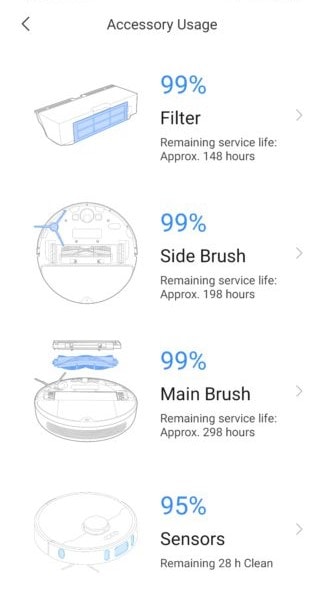 This tab in the Roborock and Xiaomi app provides a quick overview of the status of consumable parts such as the side brush, filter, and main brush. It's shows figures in percentages and provides users a heads up when to replace these parts or clean the sensors.
Specifications
Basic Technical Data
| | | |
| --- | --- | --- |
| | Dreame L10 Pro | Roborock S7 |
| Brand | Xiaomi | Roborock |
| Model | L10 Pro | S7 |
| Weight | 3.7 Kg | 4.7 Kg |
| Suction Capacity | 4000 Pa | 2500 Pa |
| Noise level | 65 dB | 69.8 dB |
| Material | Plastic | Plastic |
| Dimensions | 35 x 35 x 9.6cm | 35 x 35 x 9.6cm |
| Launch year | 2020 | 2021 |
Features / filters
| | | |
| --- | --- | --- |
| | Dreame L10 | Roborock S7 |
| Colour | Black | White/Black |
| Mopping function | Yes | Yes |
| Type of vacuum cleaner | Electronic | Electronic |
| Over-the-air upgrades | No | Yes |
| Smart top up | No | Yes |
Battery and power supply
| | | |
| --- | --- | --- |
| | Dreame L10 Pro | Roborock S7 |
| Battery type | Li-ion | Li-ion |
| Battery life | 2.5 hours | 3 hours |
| Power source | Rechargeable battery | Rechargeable battery |
| Battery capacity | 5200 mAh | 5200 mAh |
| Rated power | 66 W | 68 W |
| Voltage | 100-240 V | 100-240 V |
Communication
| | | |
| --- | --- | --- |
| | Dreame L10 Pro | Roborock S7 |
| Mobile App | Mi Home App | Roborock/Mi Home App |
| Wi-Fi | 2.5 GHz | 2.5 GHz |
| Connection type | Wi-Fi | Wi-Fi |
| Smart home | Yes | Yes |
| Voice control | Yes | Yes |
Cleaning and filtering
| | | |
| --- | --- | --- |
| | Dreame L10 Pro | Roborock S7 |
| Main brush | Removable main brush | Removable main brush & Floating brush |
| Dust bin capacity | 570 ml | 470 ml |
| Cleaning | Dry and Wet | Dry and Wet |
| Water tank capacity | 270 ml | 300 ml |
Features
| | | |
| --- | --- | --- |
| | Dreame L10 Pro | Roborock S7 |
| Navigation | LDS + Dual-line LiDAR + Obstacle Identification | VibraRise technology + LiDAR + Auto Mop Lifting |
| Map saving | Yes | Yes |
| Multi-level mapping | Yes | Yes |
| Run time | 150 minutes | 180 minutes |
| Airflow | 11.33 CFM | 13.91 CFM |
| Virtual wall | Yes | Yes |
| Carpet pressurization mode | Yes | Yes |
| Recharge & Resume | Yes | Yes |
Comparison & Conclusion
The Dreame Bot L10 Pro provides a remarkable (4,000 Pa) suction power. To put in perspective, most robot vacuums average 2,000 Pa, including the Roborock S7.
You'll even be able to tackle deep pile carpets that can pose a challenge to most robot vacuums. The L10 Pro's mopping function is effective. It can clean heavily-trafficked hardwoods. That said, it's best not to rely for any kind of heavy duty work.
It's best used for everyday cleaning.
Roborock S7 offers its new special sonic scrubbing technology and the mop layer automatically raises itself when carpet is detected.
In fact the S7 is better at mopping than it is at vacuuming in terms of its end results.
It's a known fact that most robot vacuums won't replace a standard vacuum cleaner but it still does the job.
Based on the prices, S7 stands at RM2,099 which is more expensive than Dreame L10, at RM1,399.
You get a lot in the way of features and functionality for the price of the Roborock S7, but for the Dreame L10 Pro Robot, you can get all the similar app features and end results at a cheaper price!
Overall, the Dreame Bot L10 Pro is a powerful robot. It offers some of the strongest suction force of any robot vacuum on the market. It features both a mopping and vacuuming function, allowing you to clean any floor. It contains a Lidar mapping function as well as a laser for real-time object detection that is great at avoiding objects. All of these capabilities, as well as a long-lasting battery, being able to use voice commands and navigate steep transitions are valuable.
So if you're looking for an everyday cleaning robot that does a great job at navigating, vacuuming and cleaning, Dreame L10 Pro is for you!
This is robot vacuum is the real deal!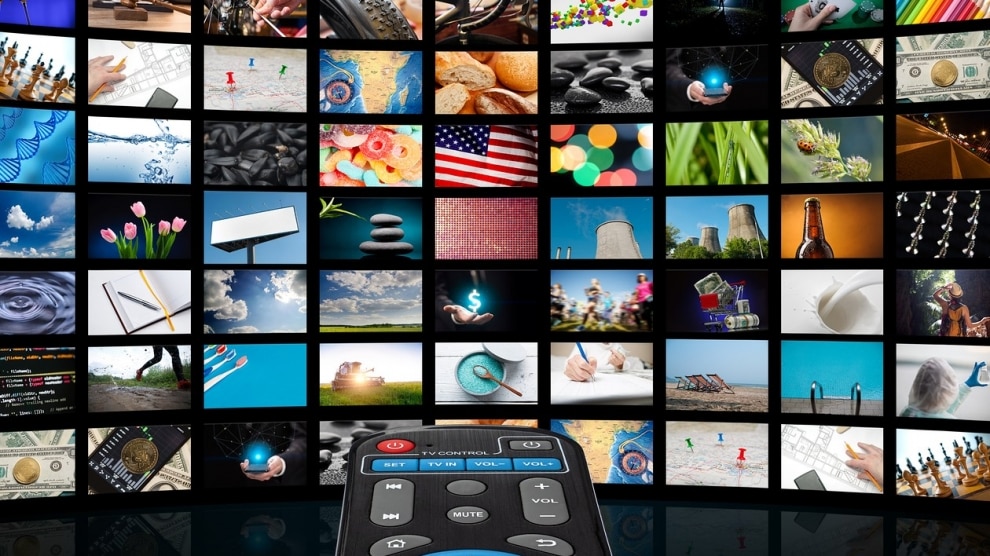 TV Box are up and coming. It has changed entertainment industry and has gained huge popularity in Malaysia. From this small device, our television turns into a personalized smart TV.
With this new technology, we no longer need to limit our choices. We can stream various channels and binge watch the TV shows we've always wanted. This innovation has made it easier for us, without a doubt.
This device is a set of entertainment that provides counterbalance to our stressful lives.
Not only that, they are super easy to install and set up. All you need is a few minutes!
It is important, though to choose the right TV box that is compatible with Malaysia's regulations and entertainment packages.
Some are not certified by SIRIM (Standard and Industrial Research Institute) which could be considered illegal against MCMC. That's something we need to be aware of.
With that being said, there are so many options to choose from, so here is a list of the best TV Box - providing quality recommendations to suit your lifestyle and budget!
List of TV Boxes
Xiaomi Mi Box S
NVIDIA Shield TV 4K
Tanix TX6 Android TV Box
T9 RK3328 Android Box
Long TV Louie Smart Android Media Box
Minix NEO U22-XJ
Q+ Smart TV Box
Amazon Fire TV Stick 4K Max
Roku media player TV Box
Mi TV Stick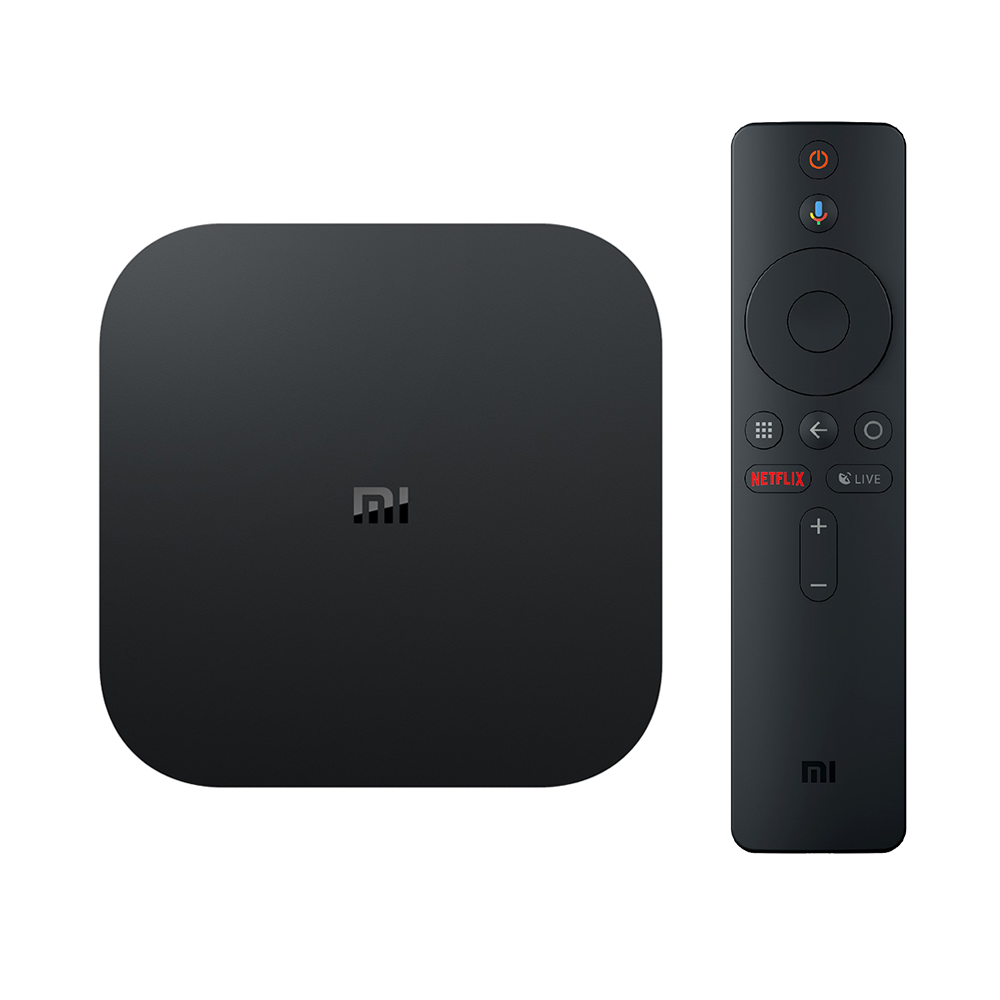 Xiaomi Mi Box S is highly recommended as it provides a lot of features at a bargain price. It supports a wide range of video formats and apps, and most importantly it can stream up to 4k due to its Android 9.0 OS and Quad Core ARM Cortex-A53 processor.
The TV Box has one HDMI port and one USB-A port for you to connect external storage device and quick transfer files to the TV.
For frequent Netflix users, this box will be just right for you!
It supports Netflix playback at 4K UHD resolution - not all TV Box can do this.
Today, this TV Box doesn't support Astro Go anymore. Don't lose hope yet - you can install a plugin support to broaden your customization and access many other channels.
Since it has compatibility with numerous apps, it has access to plethora of premium video service. On top of that, the high storage capacity allows you to install apps, watch extended cuts and also play games with fast performance and good stability.
The device offers built-in Google Assistant and Chromecast- a great additional feature to make use of.
A downside is that there is no ethernet port, which means you're stuck with using WiFi and that may affect the LAN connection and viewing experience.
The premium Dolby and DTS audio further enhances your experience surround sound.
Perfect for first-timers or less tech-savvy users!
Price: ~RM235 – 245
2. NVIDIA Shield TV 4K
To those who don't mind splurging on a TV Box, the NVIDIA Shield TV is the one for you. This premium TV Box uses processor with a 256-core NVIDIA GPU that can play 4K video smoothly and support Dolby Atmos audio output.
To judge a TV Box's performance is to see how well it renders video contents. This model will surely not disappoint you.
The AI upscaling feature alone is enough to justify the high price - ensuring sharper, more refined video streaming.
The smooth running of user interface and user experience on this device is unmatched and a worthy match that is similar to this would be Apple TV4K.
The Nvidia Shield TV is 4K HDR-compatible and supports Dolby Vision HDR and HDR10 content.
This sleek design holds a power supply port and a 1GBPS LAN port, and the other end has a HDMI port & Micro SD card slot - It is powerful, feature-packed and built for behind-the-scene brilliance!
The built-in Google Assistant is at your command. Use it to your advantage.
This device is gamer-centric. It offers GeForce NOW gaming services without any lag or slow graphics - play your favourite games with the best exposure.
However, it only has 2GB of RAM and 8GB of ROM so you might need to get extra storage to run larger games and apps.
If you're seeking for an amazing cinematic experience, this TV Box will transform your entire TV experience.
Price: ~RM623
3. Tanix TX6 Android TV Box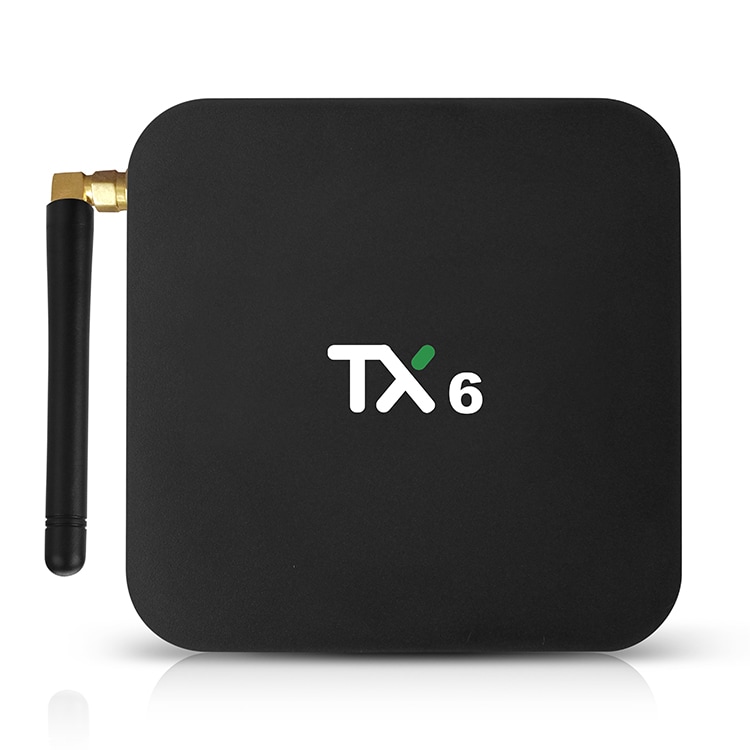 Looking for an inexpensive alternative? Tanix TX6 is the most favourable among its customers.
It has been built with Quad Core Allwinner H6 processor - giving it the ability to process videos up to 6k at 30fps and 4k at 60fps.
Containing thousands of pre-installed contents for your specific needs. The convenience gives it easy access, excellent 5G connectivity, user interface and voice search.
While it doesn't look like much, the Tanix TX6S offers surprisingly good performance. Just stick to streams and web-browsing.
This device also is able to achieve stunning visual clarity in detail via HDR10, HLG HDR as well as a built-in Smartcolor 3.0 display system.
A notable feature this device includes is an external and internal WiFi antenna for proper signal strength and external peripherals.
Tanix TX6 bears USB 3.0, USB 2.0 port, HD output, Power input, Ethernet port and SPDIF port on the rear. Giving you various choices for connectivity!
The up to date features comes with demanding 3D games along with two Core Shaders, and expandable storage up to 128GB.
The TV box also provides 5.1 surrounding audio output, granting better surrounding and realistic audio experience.
Take the gamble and get your Tanix TX6 Android TV Box that cater to your TV experience!
Price: ~RM115 – 170
4. T9 RK3328 Android Box
An up-to-date and affordable Android TV box with a straightforward, plug-and-play setup and provides a good impression on the get go. That is only the beginning!
The T9 Android TV Box is a good low-cost budget android TV box for streaming videos and other basic task.
It has WiFi 2.4+5.8GHz and supports Dual-band 5G WiFi with Bluetooth. It would be best to run a wired Ethernet cable with the unit.
With over 10,000 channels you are sure to never run out of things to watch from your TV - the channels are customized for Malaysian audience which makes it really convenient to use.
The device holds expandable ports via MicroSD, USB Flash or HDMI.
With the help of its Quad Core ARM Cortex-A53 processor, it reliefs the user experience of any lag. Experience no setbacks streaming on YouTube or Netflix!
It comes with 4K-resolution display and equipped with Android 9.0 OS. The storage holds 32GB ROM and 4GB RAM.
An additional feature is the LED panel that displays the time at the front of the unit! Not all models have this.
Given its features and specifications, we think that this gives you great value for money especially if you are looking for seamless entertainment from your TV.
This TV Box makes a good basic entertainment box!
Price: ~RM145
5. Long TV Louie Smart Android Media Box
This TV Box is specifically customized for Malaysians. This LongTV box is pre-installed with all your favourite Malaysian channels, as well as other streaming services from across Asia and other international channels.
The local customer service makes it convenient, so you can seek assistance whenever is needed.
It comes with 4K Ultra HD screen and Android 7.0 operating system - letting you watch a high resolution and quality screen output which runs smoothly at great stability!
The RAM storage is limited - however you can insert your own SD card so you can still watch your videos!
The Quad-Core 2.0GHz which is more than enough processing power for most applications.
Connectivity is also superb in terms of WiFi connection and data transfer. This definitely has great value for money among the top local Android TV boxes in Malaysia.
If you love watching local dramas, this is the right fit for you!
Price: ~Rm399
6. Minix NEO U22-XJ
MINIX NEO U22-XJ is designed to be the center of your home entertainment needs.
Featuring a true high-performance Quad Core Cortex A73 + Dual Core Cortex A53 Processor, powered by Android 9.0 Pie, NEO U22-XJ is built for speed.
This device seamlessly achieves an ultra realistic viewing experience - have the cinema experience from the comfort of your own home.
Discover thrilling 4K HDR entertainment; NEO U22-XJ handles a variety of HDR formats, including HDR10, HDR10+ and Dolby Vision.
The connectivity capability of 802.11ac 2 x 2 MIMO Dual-Band Wi-Fi and Gigabit Ethernet provides super fast wired and wireless connections - perfect for streaming on your TV!
And of course, it comes with a Micro SD card reader to increase your total storage capacity.
The design for silent performance ensures ultra-reliability and performance even under full load and long-term usage.
The MINIX NEO U22-XJ will give you the optimal experience for your viewing pleasure.
Price: ~RM665
7. Q+ Smart TV Box
The Q Plus scored great overall rating by several experts in the field. Its design, performance and connectivity were commonly highly rated, with its slew of additional features welcome for the user's convenience.
The TV Box fully supports premium 6K Ultra HD contents. It is completed with powerful 64-bit CPU and T720 MP2 GPU combination in place. It showcases 6K graphics as well as offers highly quality realistic pictures.
The unique colour-changing exterior makes it hard to resist compared to a simple single shade.
With a stable Android 9.0 operating system together with its Quad Core Allwinner H6 processor, the Q Plus is able to display UHD-resolution content with stunning visual clarity, void of buffering issues.
It has all the pre-installed movies and android games that you need!
4GB RAM and 64GB ROM - no buffering, breaking down or running out of space.
Like many others, it offers wired and wireless options.
Price: ~RM195
This Fire TV Stick 4K Amazon product means it offers Amazon services in its menu - including a library of tens of thousands of streaming channels, work with Amazon Alexa for voice control of the TV and media functions, and also music services like Amazon Prime Music and Spotify and a large selection of games.
Enjoy brilliant picture with access to 4K Ultra HD, Dolby Vision, HDR, and HDR10+.
Home theater audio with Dolby Atmos - Feel scenes come to life with immersive Dolby Atmos audio on select titles with compatible home audio systems.
The unique thing about this device is it's a self-contained media player that looks like a USB flash drive and plugs directly into the HDMI port of your TV.
Reviews say this device is very responsive such as browsing through different rows on the main screen and switching between different apps.
In terms of hardware, the Fire TV Stick 4K uses a quad-core 1.7GHz CPU with 8GB of memory. It has MIMO 802.11a/b/g/n/ac Wi-Fi and Bluetooth 5.0 with BLE. The WiFi specs makes up for the lack of ethernet port.
The Amazon Fire TV Stick 4K is a nearly flawless media streamer!
Price: ~Rm228
9. Roku Streaming Stick+
The Roku Streaming Stick+ is great for high performance portability and smooth streaming from anywhere in your house.
Experience your favourite shows with stunning detail and clarity. Whether you're streaming in HD, 4K, or HDR, you'll enjoy picture quality that's optimized for your TV with sharp resolution and vivid colour.
It's perfectly portable to stream almost anywhere. As long you bring your remote and power along!
The long-range wireless receiver gives you up to 4x the range and a stronger signal for smooth streaming even in rooms farther from your router! Impressive.
The quad-core processor can output 4K HDR10 streaming thanks to its built in 802.11ac Wi-Fi antenna.
It has a microphone built-in for voice search, dedicated media buttons and thanks to its IR Blaster/HDMI CEC connection.
Setup is a cinch: Plug it in, connect to the internet, and start streaming - it's that simple!
Stream what you love, including free TV, live news, sports, and more. It's easy to stream what you love and cut back on cable bills with access to 500,000+ movies and TV episodes across thousands of free and paid channels.
Price: ~RM275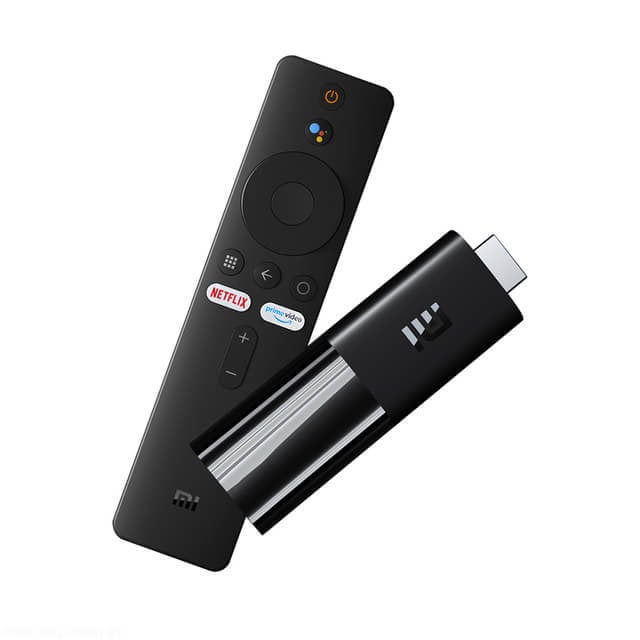 The Mi TV Stick runs Android TV 9 Pie and is compatible with the Google Play Store for Android TV, which presently has over 5,000 apps. Netflix, Amazon Prime Video, Disney+ Hotstar, and other major streaming services available are all supported. You may also use your TV to download games, social media sites, and other apps.
The Mi TV Stick is a self-contained media streaming device that just requires a display to operate. The Mi TV Stick can output full-HD (1920x1080 pixels) at 60Hz through HDMI connection. It boasts a quad-core Cortex-A53 processor, 8GB of app and data storage, and 1GB of RAM.
The device connects to your Wi-Fi, with support for 2.4GHz and 5GHz networks.
Dolby Audio and DTS Digital sound formats are also supported on the Mi TV Stick.
You can watch 4K video as well, but even if you're watching on a 4K TV, streaming will only go up to full-HD. Naturally, a 32-inch or 43-inch full-HD television is recommended for use with the Mi TV Stick.
There's Google Assistant, and the remote has a microphone for voice requests. You may use it for almost anything that Google Assistant can do, such as retrieving content and information, setting alarms and timers, controlling smart devices in your home, and so on.
The UI can't get any cleaner, and a simple experience is always good!
The Mi TV Stick is simple to set up; simply plug it in, follow the on-screen instructions to connect it to your Wi-Fi, and sign in to your Google account. After that, you may start streaming by downloading apps and games.
Pick up the Mi TV Stick only if you have a firm budget and don't see yourself upgrading to a 4K TV any time soon.
Price: ~RM147
How to pick out a TV Box?
1. Processor
If you want smooth running performance, you're going to need a quality processor and a decent amount of RAM for your TV Box.
A powerful processor means you can run 4K quality content with little or no lag!
At the very least, a 1.5GHz quad core will do fine.
2. RAM and Storage
Having more RAM means better performance in general, allowing you to multiple apps concurrently without excess lag.
The minimum is having at least 4GB of RAM and a minimal of 32GB for storage.
Adding external storage would benefit greatly to add onto your experience!
3. Video resolution
You may want to choose TV box that able to support streaming of 4K videos and HD contents.
This is for you to be able to enjoy the viewing experience.
4. Port capability
You should look for features that have HDMI 2.0, USB ports and an Ethernet cable.
You'll notice a definite speed increase, especially if you watch movies or shows through an external hard drive!
5. Network connectivity
If you're experiencing frequent buffering, it may be due to a poor internet connection.
At least 4Mb (Or Mbps) broadband will suffice for HD streaming purposes!
For most cases, it's best advised to directly connect your TV Box to your router via Ethernet cable.
6. Operating System Version
Aim higher!
Android 6.0 and higher is suggested. Anything lower is outdated.
7. Bluetooth support
Having access to Bluetooth connection is definitely a plus. It can be useful for connecting to external peripherals or transferring files. Be sure to check if your TV Box include the feature.
Conclusion
TV Box are here to stay! Due to its wide variety and endless options of bringing content from the internet to your screen - it has given us the opportunity to explore and make TV exciting again.
The countless choices may be tempting or intimidating, it's better to do the proper research and choose one that suits you best and your lifestyle.
An overall best TV Box would be Xiaomi Mi Box S. Giving you everything that you need.
If you love Malaysian TV, LongTV Louie will fit right into your viewing habits!
For your late night viewing in high resolution, choose MINIX NEO U22-XJ, NVIDIA Shield TV Pro or the Amazon Fire TV Stick.
Go on and start your TV Box journey!
Video Direction Guide:
Alternatively, you can refer to step-by step guide below:
1 - You will see the logo " CASCADES " in front of the building. Turn right to enter (Hint: Follow the black car!)
2 - Go up the slope around 100 meters.
3 - Turn left to enter the parking (LG 1). " MAXIMUS CAR WASH " is on your right.
4 - Look for the lift lobby.
5 - Take the lift to level "LG". (Note: You will only reach Level 3 when you take the 2nd Lift. Just follow the instructions for now and you will get there.)
6 - At level LG, turn left and go straight, you will see "Enjoy your food" restaurant on your right. Go straight.
7 - On your right, you will see a corridor in between the security/maintenance room & MuBa Cafe. Go straight to the end.
8 - Now, turn right. Take the FIRST lift to level 3.
9 - Our office is now on your right. Unit no. A-03-13(B).