Description
Power Lifting Suction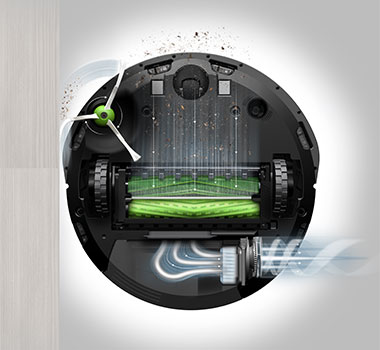 Hey dirt, don't get too comfortable.
Power-Lifting Suction that delivers 10X the air power* for improved pick-up performance.
*Compared to Roomba® 600 Series AeroVac™ System.
iAdapt® 3.0 Navigation with Visual Localization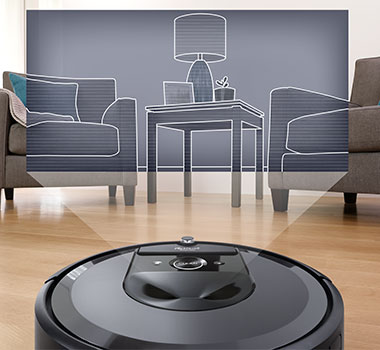 Guided by serious smarts.
Patented iAdapt® 3.0 Navigation with vSLAM® technology allows the robot to map its surroundings to seamlessly and efficiently clean an entire level of your home. The robot creates visual landmarks to keep track of where it's been and where it has yet to clean.
Best for Pets*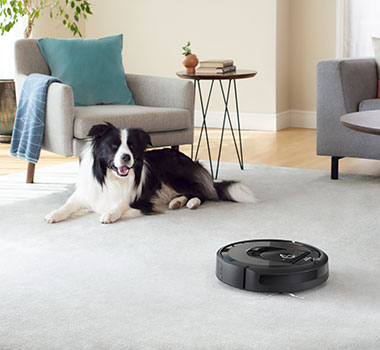 Picks up more pet hair than other robotic vacuums.*
Ideal for homes with pets- Premium 3-stage Cleaning System cleans the dirt and pet hair you see, and the allergens and dust you don't.
High-Efficiency Filter captures 99% of cat and dog allergens.
*Based on proposed IEC fiber pick-up test against Shark, Neato, Ecovacs, iLife, bObsweep.
Dual Multi-Surface Rubber Brushes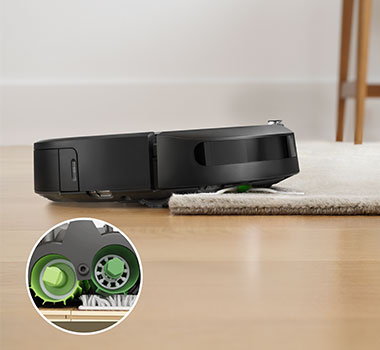 Dual brushes keep constant contact with the floors they love.
Each brush is uniquely designed with rubber treads that stay in constant contact with different floor surfaces - from hard floors to carpets - adjusting and flexing, to get everything from small particles like dust and dirt, to hair and large debris.
Imprint™ Smart Mapping: Clean and Schedule by Room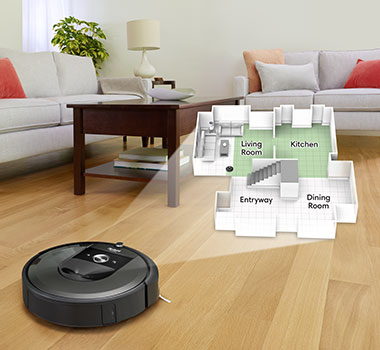 "Roomba®, clean my kitchen"
Enjoy hands-free control with Alexa-enabled devices and the Google Assistant. Learns your home, remembers your rooms, and adapts to determine the best way to clean with Imprint™ Smart Mapping.
Other Roomba® Robot Essential Features
If it's not from iRobot®, it's not a Roomba®
Wi-Fi® Connectivity, Edge-Sweeping Brush, Auto-Adjust Cleaning Head, Patented Dirt Detect™ Technology, Smart Navigation, Automatically recharges and resumes cleaning, works on carpets and hard floors.
| A | | | | | | | | |
| --- | --- | --- | --- | --- | --- | --- | --- | --- |
| Systematic Cleaning | ✓ | ✓ | ✓ | ✓ | ✓ | ✕ | ✕ | ✕ |
| 3-Stage Cleaning System Cleans Carpet and hard floors | 40x Suction* | 40x Suction* | 10x Suction* | 10x Suction* | 10X Suction* | 5x Suction* | 5x Suction* | ✓ |
| Runtime | Recharges & Resumes | Recharges & Resumes | Recharges & Resumes | Recharges & Resumes | Recharges & Resumes | Up to 90 minutes** | Up to 90 minutes** | up to 60 minutes |
| Dirt Detect™ Technology | ✓ | ✓ | ✓ | ✓ | ✓ | ✓ | ✓ | ✓ |
| Edge-Sweeping Brush | Corner Brush | Corner Brush | ✓ | ✓ | ✓ | ✓ | ✓ | ✓ |
| Washable Dirt Bin | ✓ | ✓ | ✓ | ✓ | ✓ | ✓ | ✓ | ✕ |
| Intelligent Navigation | vSLAM® Advanced Navigation | vSLAM® Advanced Navigation | vSLAM® Advanced Navigation | vSLAM® Advanced Navigation | Visual Navigation + Mapping | ✓ | ✓ | ✓ |
| Clean and schedule with smart home and app controls | ✓ | ✓ | ✓ | ✓ | ✓ | ✓ | ✓ | ✓ |
| Dual Multi-Surface Rubber Brushes & High-Efficiency Filter are ideal for pets | ✓ | ✓ | ✓ | ✓ | ✓ | ✓ | ✓ | ✕ |
| Entire level cleaning with coverage maps | ✓ | ✓ | ✓ | ✓ | ✓ | ✕ | ✕ | ✕ |
| Clean and schedule by room with Imprint™ Smart Mapping | ✓ | ✓ | ✓ | ✓ | ✕ | ✕ | ✕ | ✕ |
| Imprint™ Link Technology | ✓ | ✓ | ✓ | ✓ | ✕ | ✕ | ✕ | ✕ |
| Clean Base™ Automatic Dirt Disposal | ✓ | Compatible | ✓ | Compatible | ✕ | ✕ | ✕ | ✕ |
| Deeper cleaning on carpets with Power Boost | ✓ | ✓ | ✕ | ✕ | +Power Boost Technology | ✕ | ✕ | ✕ |
| PerfectEdge® Technology | ✓ | ✓ | ✕ | ✕ | ✕ | ✕ | ✕ | ✕ |
| Anti-Allergen System | ✓ | ✓ | ✕ | ✕ | ✕ | ✕ | ✕ | ✕ |