Description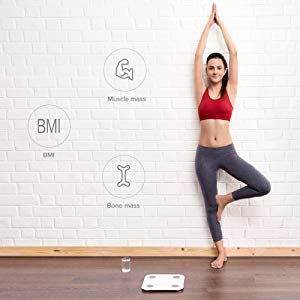 Mi Body Composition Scale
10 Precise Data Points that Matter
In addition to body weight, Mi body composition scale provides accurate body composition statistics that gives you a realistic picture of your health and fitness.
1. Muscle mass: Weight of muscle in your body.
2. BMI: Measure of body fat based on ratio of height to weight.
3. Bone mass: The weight of bone mineral in your body.
4. Weight: The estimate overall body mass.
5. Body fat: The actual weight of fat in your body.
6. Visceral fat: It resides deep at the core abdominal region, surrounding your organs.
7. Stay motivated: Stay inspired on your weight goal journey by consistently comparing with people around you.
8. Basal metabolism: The minimum level of energy required to keep your body functioning at rest.
9. Body score: An overall evaluation of your body composition.
10. Water: The total amount of fluid in your body expressed in percentage.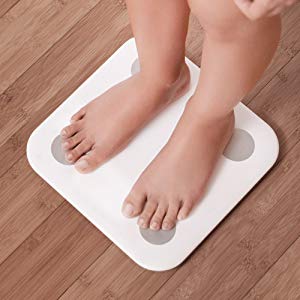 High-Precision Accuracy
Understand your body better with Mi body composition scale which produces accurate stats via a series of complex algorithms and advanced bioelectrical impedance analysis (BIA). Now take data-driven measures to meet your health goals.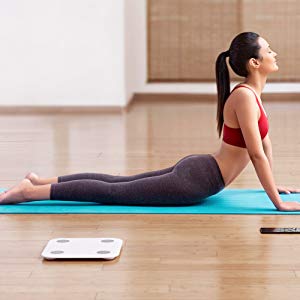 Mi Fit App
All your health data in one place. To give you a realistic picture of your health and fitness, Mi body composition scale syncs your data to Mi fit app so that you can see all your data in one easy-to-read graph - making easier to track your progress and take control of your activities.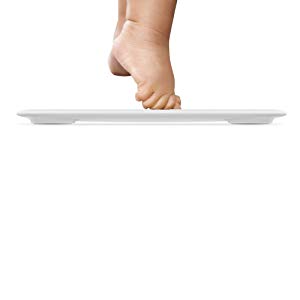 Profiles for the Whole Family
Mi body composition scale doesn't just identifies adults and children apart. It automatically identifies each family member and can store up to 16 user profiles. Also thanks to low-energy Bluetooth 4.0 technology, the scale will operate up to 8 months using just 4 standard AAA batteries.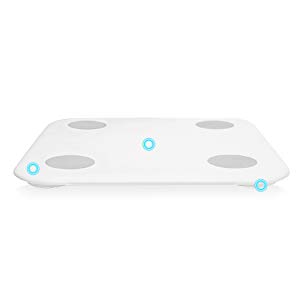 Sleek Design with Safety in Mind
Designed with a sleek, strong tempered glass with high light transmittance for the main panel. To prevent slip and fall, the polished glass features anti-slip finish to ensure sturdy grip needed, even for wet feet. Its refined texture and gleaming surface is the perfect complement to any home.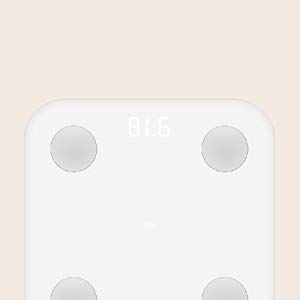 Brightens up on its Own
Beautifully hidden from view until you step on it for three seconds, the elegant display delivers clear readings using LED lights. The unique light sensor automatically adjusts brightness for readability in all conditions.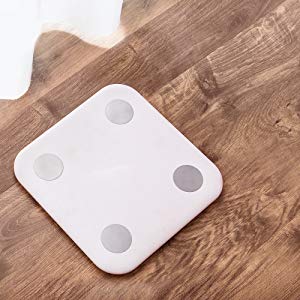 Smarter Scale, Better Design
Mi body composition scale's profile comes to just 14.75mm at its thinnest point - slimmer than the diameter of a typical coin. And with its beautiful pure white finish, Mi body composition scale makes a perfect centerpiece to any home.
Note: Individuals with an electronic medical implant, such as a pacemaker, should not use Mi body composition scale. Always consult your physician.
Results may not be completely comprehensive or accurate for athletes, pregnant women and specially-abled people.