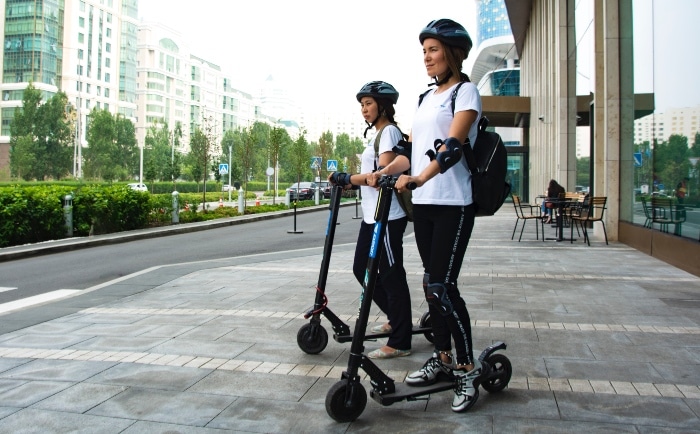 With all of the traffic congestion these days, getting around the city can be difficult. Public transit is a lifesaver, but it's too bad it can't get you everywhere; it's only good for a few places.
You can get around the city on an electric scooter. It is environmentally friendly, extremely handy, and saves a significant amount of money on your car petrol. You may ride the electric scooter wherever you want in the city, and because the electric scooter is light and portable, you can take it on public transportation like the train or bus. The electric scooter will easily fit in the boot of your car too.
Here are the best electric scooters in Malaysia, and you may pick the one that best meets your needs!
List of electric scooters
Xiaomi Mi Electric Scooter Essential
INOKIM Light 2 UL2272 Electric Scooter
Mi Electric Scooter Pro 2
Electrical Scooter Zero 9
Segway Ninebot MAX
SEALUP XLP- Q8 IP54 Waterproof Foldable Electric Scooter
Ninebot Segway KickScooter ES4
Starlight V2 by Star Wheels
GTE Electric Scooter Foldable Adult Two-wheeled City Scooter
HX X7 Electric Scooter
InMotion L9 Electric Scooter
Glion Dolly Electric Scooter Model 215
1. Xiaomi Mi Electric Scooter Essential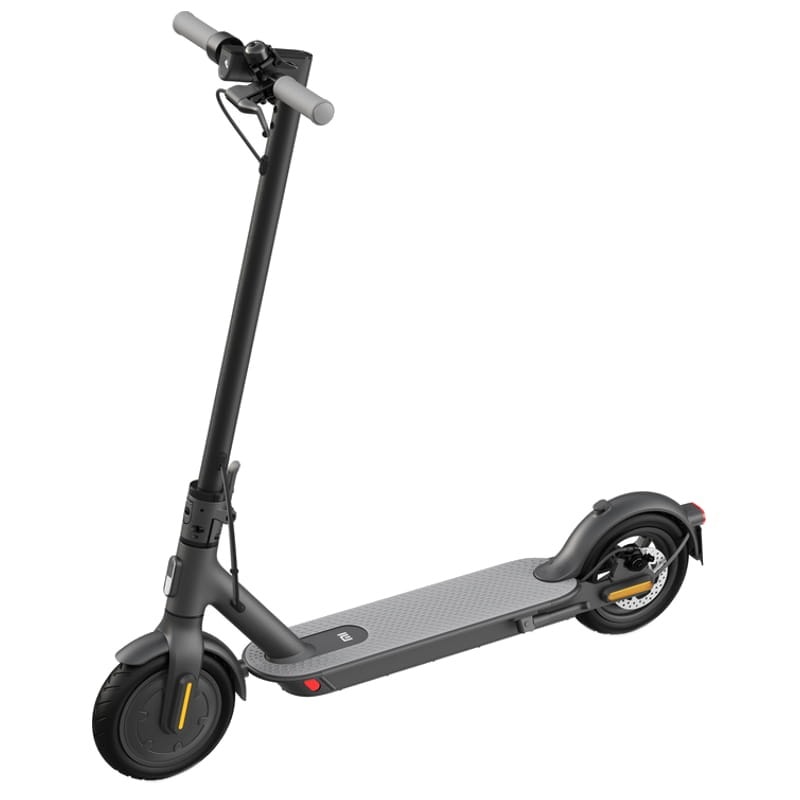 The Mi Electric Scooter Essential is for those who like to keep things light and simple. The vehicle is made of a low-density, high-strength aerospace grade aluminum alloy, resulting in a net weight of only 12kg, making it easy to transport.
Essential features a minimalist design.
The scooter has a top speed of 20 km/h and a range of 20 km, thanks to the Essential battery's maximum output of 500 W.
The kinetic energy recovery system (KERS) has been fully upgraded. When braking or releasing the throttle while driving, the energy conversion is more efficient, further increasing battery life
There are three riding modes: normal, pedestrian and sport. The accelerator is a button on the right-hand handlebar, while the left-hand side has a bike-like brake and a rather unnecessary bell. For nighttime riding, a bright LED light is incorporated into the front of the handle.
It also boasts cruise control, front and rear lights, E-ABS brakes and a phone app to check riding stats, battery status and to upgrade firmware.
Multi-functional dashboard shows accurate display of speed and various ride states
Their comfortable foam grip for increased comfort and improved control experience
One button for multiple functions - Just one button to turn the scooter on/off, switch speed modes, and turn on the headlight
The Essential is an excellent low-to-mid-range electric scooter
Price: RM1,179
2. INOKIM Light 2 UL2272 Electric Scooter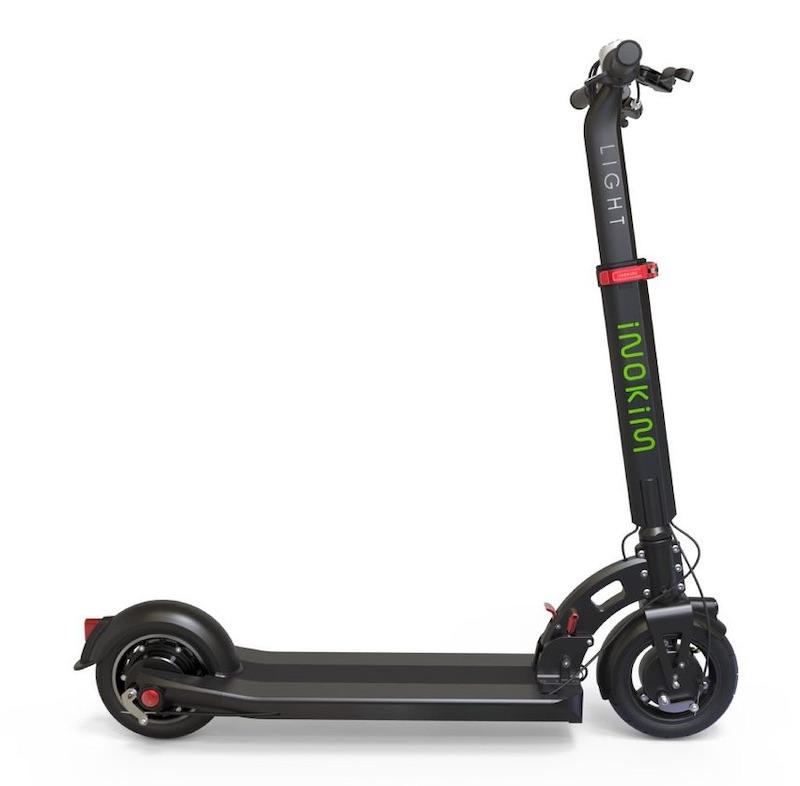 The popular INOKIM Electric Scooter model is back with a powerful 350W motor, and dual drum braking system, packed into the same beautiful design.
The brushless hub motor with 350W of power and a 36V Li-Ion battery - this is to ensure that the electric scooter may travel at a maximum speed of 35 km/h.
Along with the powerful motor, the latest and enhanced dual drum braking system ensures that your safety is never compromised. The braking system is also simple to maintain because there are no brake pads or disc rotors to replace; all you need is frequent tuning.
It has a maximum load capacity of 100 to 120 kg with front and rear CST Pneumatic tyres of 8.5 inches in diameter.
Inokim's scooter is also foldable, making it easy to transport and store. And of course, it has front and rear lights.
A worn or broken tyre and tube can now be replaced with ease - Simply loosening the locked screws on the removable rear hub enables for a simple tyre changing.
With all of the specifications for electrical and mechanical components thoroughly tested, Inokim ensures higher safety standards in their electric scooter products.
Price: RM2,449
3. Mi Electric Scooter Pro 2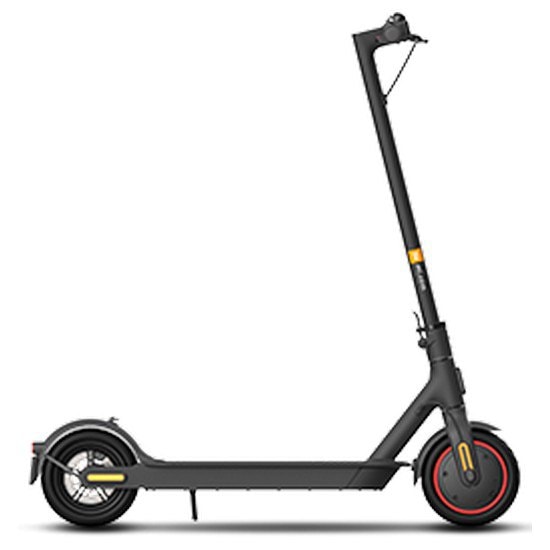 The Mi Scooter Pro 2 is an evolution of the original - it has a more powerful motor and bigger capacity battery.
It does weigh more, and at almost 14kg, it's about as hefty as a light electric bike.
With a 600 W max power, the top speed is at 25km/h, the wheels are standard 8.5in, and the range is up to 45km.
There's a new KERS system that's more efficient than before, and the tyres are said to be three times more resistant to skids and punctures.
The Mi Scooter Pro 2 is more than capable of getting me up those hills without a problem.
It's best to ride it on calm surfaces, as the little wheels don't absorb any bumps and there's no suspension.
Xiaomi's app would be used for a variety of Xiaomi goods, but after you've created an account and added the Mi Electric Scooter Pro 2, it can act as if it was built only for the scooter.
It's simple to use and offers a variety of options, such as enabling cruise control and deciding whether the back light is always on or only flashes while braking. It's also useful for selecting mph rather than km/h.
There's a 'lock' mode which introduces rolling resistance as a deterrent to a thief (or a family member!), along with an annoying beeping noise and flashing lights.
Price: RM 2,388
4. Electrical Scooter Zero 9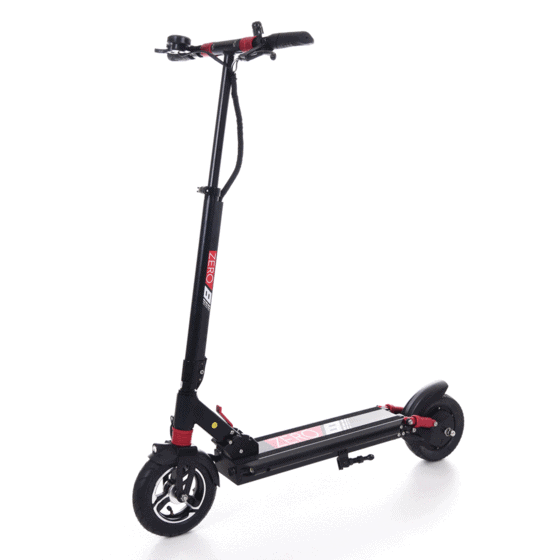 The Zero 9 is an electric scooter that was created with the goal of going further.
It can travel up to 45 kilometres on a single charge, which takes about 6 hours. You may charge the scooter as you sleep at night and have it ready to ride when you wake up.
The distance is sufficient to get you around the city in a day.
The scooter is equipped with a 25A controller and a 600W motor, as well as a 48V 13Ah battery. The compact car also comes with a new set of 8.5-inch pneumatic wheels in the front and back, which provide a smoother ride and greater balance.
A front disc brake and a rear drum brake are included to assure your safety while riding the scooter. It also has a front spring suspension and rear air shocks. The scooter's maximum load capacity is 120 KG.
With 8-inch pneumatic wheels, it offers better ride quality and traction than 8-inch wheeled scooters without the bulk of a 10-inch wheeled scooter - an excellent balance.
Whether its long range commute or leisure rides, the ZERO 9 will provide you with a smooth ride for the duration of your journey.
Price: RM2,799
5. Segway Ninebot MAX
The Ninebot Kickscooter MAX is here to ignite your spark, with the longest distance of any Segway-Ninebot, durable tyres and a body designed for all terrains, all at an affordable price.
The MAX is the latest addition to the renowned Ninebot KickScooter line from Ninebot Segway, a leader in personal mobility. The next generation e-scooter is more powerful than ever before, with major advancements in practically every element.
Featuring 2.5W LED front headlight, rear/brake light and on-off switch button.
Using Dual Brake System - Front wheel mechanical drum brake. Back wheel regenerative electric brake. Simultaneous dual brake provides the greatest stability and steerability. IPX5 water resistance.
Reflective Sticker offers high-quality reflective warning sticker. On both sides of the front and rear fork. Increased safety at night!
The LED Dashboard includes power assist for pushing the scooter by hand, maintenance signal, Indicator lamp of power levels and Bluetooth.
The wide vacuum inflatable tyres is 10-inch front and rear tubeless tires. Shock absorbing for comfortable riding for improved control and handling of the bike. It will get you through bumpy terrains.
The scooter's spacious footrest and deck - keeping your legs upright for more freedom and comfort with an anti-slip surface.
Price: RM2,799
6. SEALUP XLP- Q8 IP54 Waterproof Foldable Electric Scooter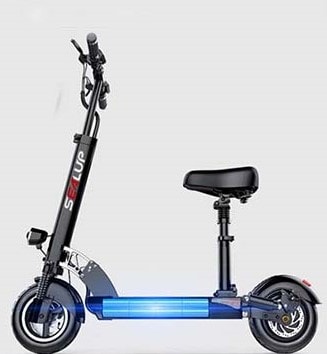 This SEALUP electric scooter has a seat, giving it the appearance of a tiny motorcycle.
The scooter has been carefully constructed with a sophisticated 500 W motor system and the best lithium battery pack, allowing it to travel up to 150 kilometres.
The scooter's efficient engine power also improves its climbing ability, allowing it to effortlessly climb up to 30 degrees.
The scooter has an LCD display that may be used to regulate gear switching, traffic data analysis, power display, cruise control, and the LCD interface.
The scooter's frame is both lightweight and waterproof. The front wheels are supplied with metal spring shock absorbers, while the rear wheels are equipped with twin hydraulic shock absorbers. This is to ensure that the scooter rises smoothly and without interruption.
The scooter is also equipped with a front and rear porous disc brake system, which works well in emergency situations. There are also front and sidelights on this item, as well as warning rear lights. This allows you to ride the scooter wherever you want without fear of being hurt.
Price: RM2,358
7. Ninebot Segway KickScooter ES4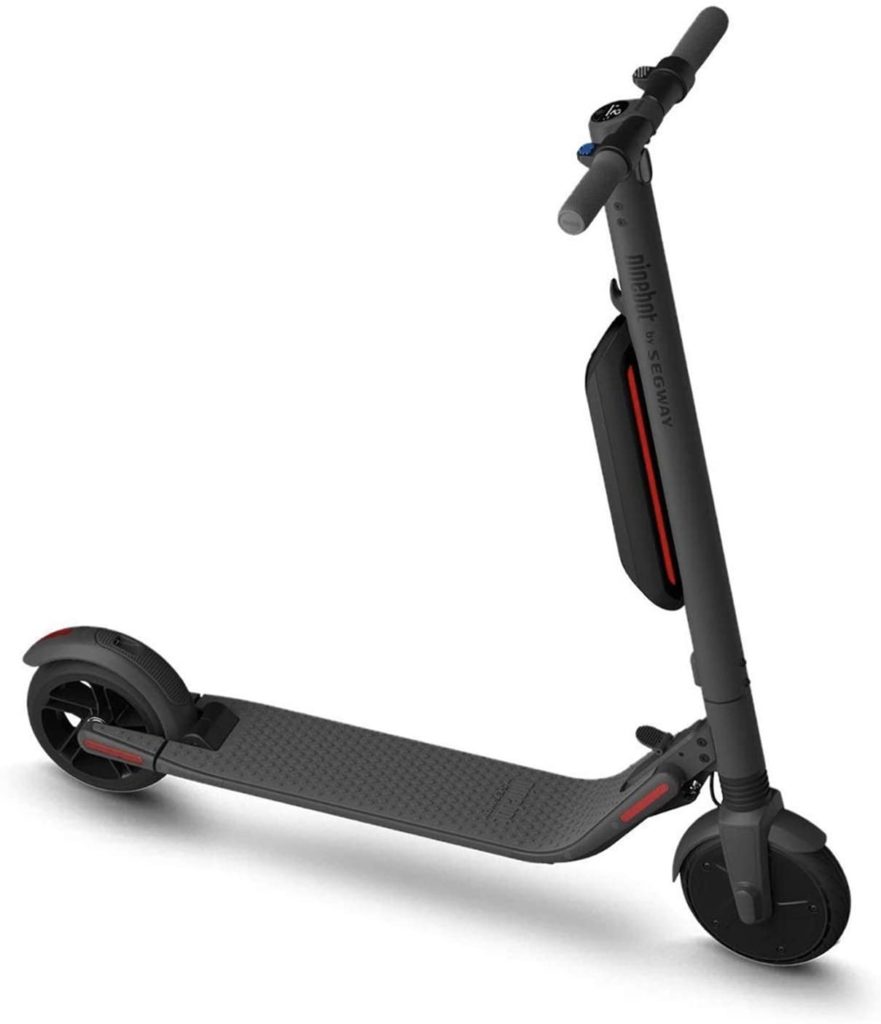 In hues of grey, the ES4 has a utilitarian appearance and design. It's simple to use and was the industry standard for a reason, but it's been surpassed by other scooters.
The ES4 is well-made, long-lasting, and quick enough to keep up with traffic. With dual batteries as standard, the ES4 has roughly 35 percent greater range and goes 5 kmh faster, with a top speed of 29.5 kmh.
Its riding ergonomics are good. With simple thumb controls for the brake and throttle, the rider can comfortably control the scooter while keeping both hands on the handlebars.
The Ninebot ES4 is very easy to handle. You do not need experience or finesse to accelerate from kickstart. It goes from 0 to 24 kmh in 6.6 s.
The entertaining under-deck lights are one of the ES4's best features. A Bluetooth-enabled mobile app lets you control the lights, including colour schemes and patterns.
It's quick enough to keep up with bikers in traffic, and its shared market appearance may deter theft. However, the firm tyres prevent you from feeling any suspension dampening, making prolonged rides quite uncomfortable.
The Ninebot ES4 comes with a regenerative brake and foot brake. For normal stop and go, the regen brakes are effective and really easy to use. In an emergency stop, the rider will need to keep their rear foot free to hit the rear fender, which applies the foot brake.
The external battery architecture has both advantages and disadvantages. The charging port is located on the top of the battery, which eliminates the need to crawl on the floor to plug it in. It's difficult for a thief to remove the battery because it's fastened into the stem.
The ES4 loses some range and top speed after the external battery is removed, which is a disadvantage.
Price: 2,388
8. Starlight V2 by Star Wheels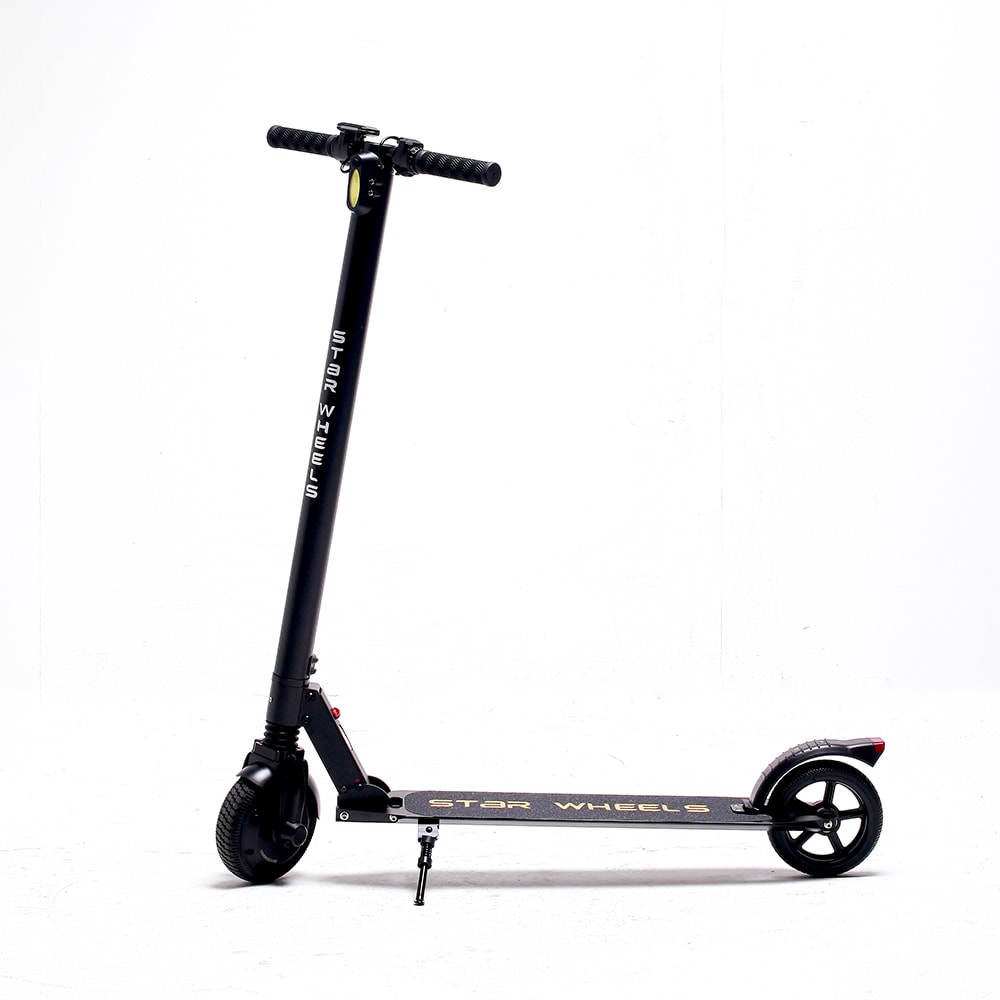 Introducing the E-Scooter STARLIGHT V2! One of the LIGHTEST scooter in the market, weighing 8 KG! Super Easy Folding, and User Friendly!
Starlight V2 features removable handlebars, front EBS brakes, rear mechanical brake, LCD display panel for controls, super bright LED headlights, and 6.5-inch pneumatic tyres. A 158.4Wh lithium-ion battery powers the 250W motor, which has a range of 15 to 25 kilometres and a top speed of 20 to 25 kilometres per hour depending on weight.
The Startlight V2 is also equipped with a triple-speed transmission and weighs only 8kg. Finally, a brake light adds to the safety of driving on city streets. The affordable price with a one-year warranty, making it ideal for beginners and budget-conscious people.
Most Suitable for LRT, MRT, KTM, Leisure and short distance transport! Recommended for Entry Level, minimal usage and indoor smooth surface.
Price: RM1,099
9. GTE Electric Scooter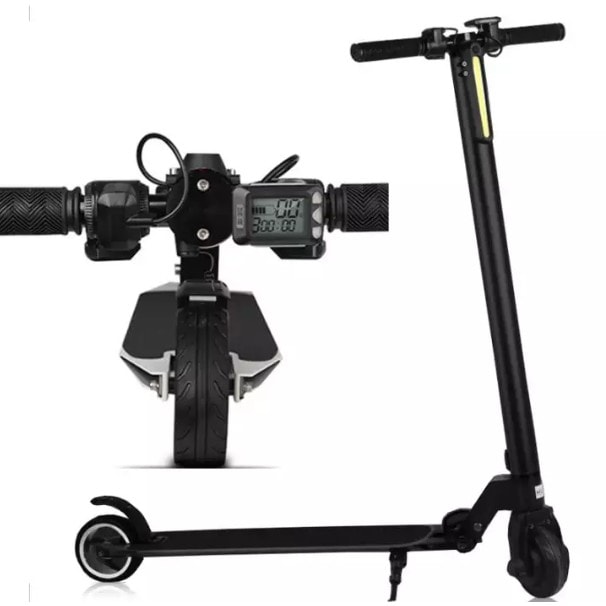 This item from GTE is the finest alternative for you if you want a maintenance-free electric scooter that is foldable and has a unique small design.
The current battery levels, current speed, total range, and gear function are all displayed on the LCD screen of this electric scooter. The scooter has three gears and can reach a top speed of 25 kilometres per hour.
The 24V high-performance and high-capacity battery life is improved - the battery life is longer, so you can enjoy it more!
The scooter's tyres are an inflated type, which is a non-slip, wear-resistant, and puncture-resistant tyre. The scooter comes equipped with a foot brake system that is simple to operate and gives you better control over the small vehicle.
The product also has a unique baffle design, so you won't have to worry about mud and rainfall splashing on your clothes when it rains. It is possible to ride in the rain and yet get at your destination on time.
When the day grows dark, you may turn on the high-powered LED lighting to make riding at night or early in the morning safer.
The folding body is light and can be stored at home angle or under the office desk!
Price: RM699
10. HX X7 Electric Scooter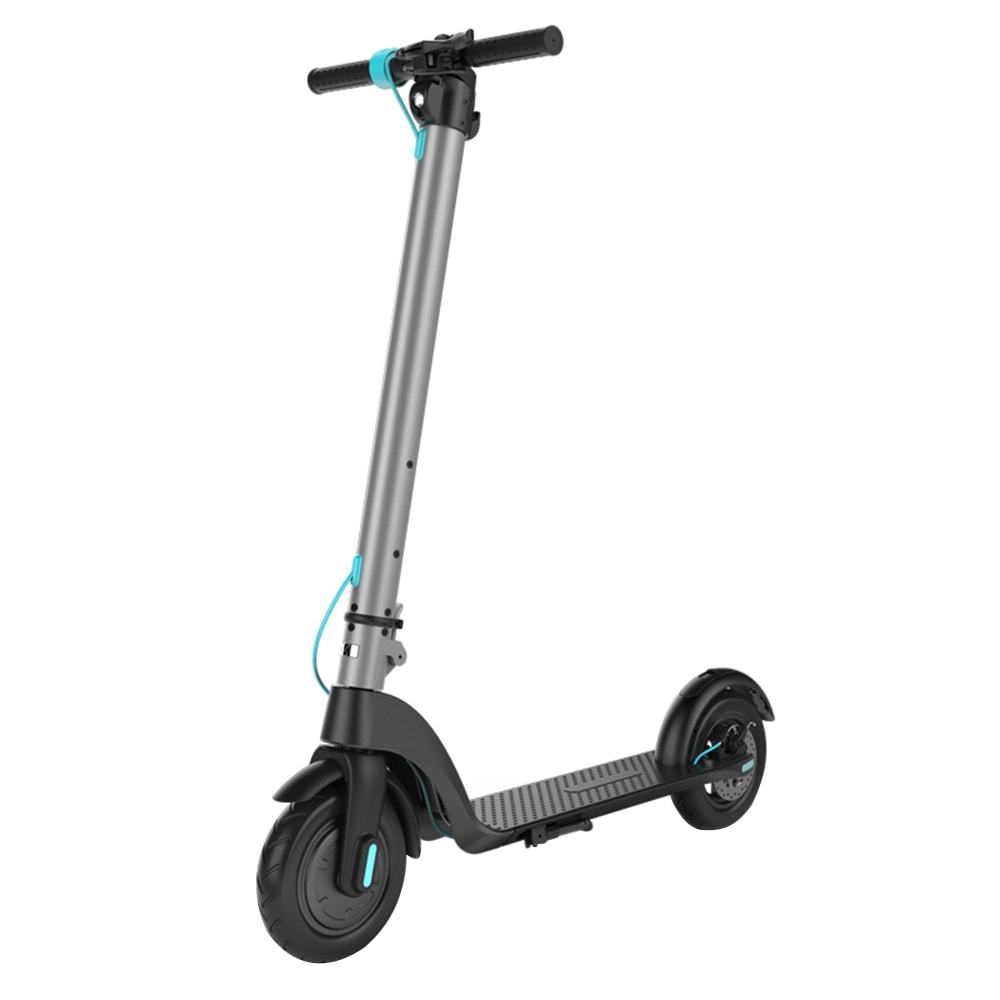 The X7 electric scooter is perfect for getting around town or having fun after work or school, this scooter can reach speeds of 25km/h with a range of approximately 40km.
The X7 is packed with safety features including LED front and rear lights as well as ABS electronic braking.
With a three-hour charge period and a detachable battery, you'll be able to achieve top speeds of up to 25 km/h in no time.
With Disc brake system and E-ABS anti-lock system. High-efficiency braking and quick response, safe and worry-free riding.
A high-definition LED screen allows you to monitor your speed and battery capacity at any moment. Long-press the throttle for more than 6 seconds to cruise at a fixed pace, convenient, and comfortable to operate. Waterproof dial design may be accelerated with a single push.
This E-Scooter is lightweight and folds in three seconds, making it more convenient to go around town.
Price: RM 1,688
11. InMotion L9 Electric Scooter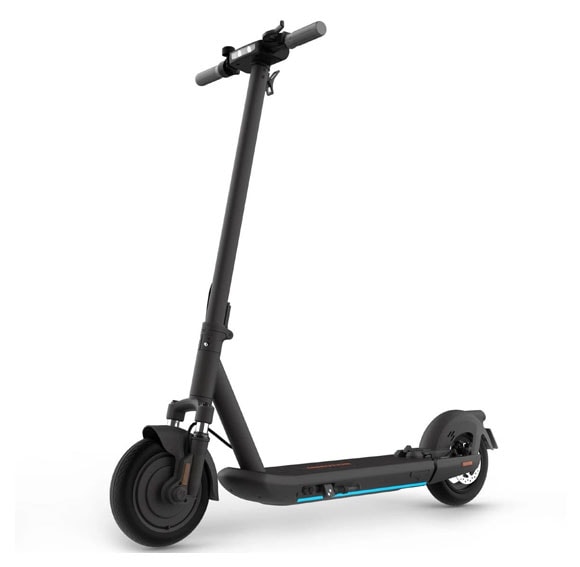 The InMotion L9 is the ideal get-on-and-go Scooter for inner-city commuters or anyone looking for a simple, no-fuss lightweight Scooter with good range and speed.
The L9 is better suited for keeping up with bike and traffic with the 40km/h jump. With the huge 675Wh battery pack, the L9 should be able to handle a round-trip commute depending on ride style, rider weight, and terrain. A unique wide LCD display reading for the current speed, battery gauge bars, automatic signaling, outstanding suspension, large 675Wh battery pack, large 10′′ front/rear tyres, bluetooth App support, dual-charging inputs, and other features are included in the L9.
The L9 is more suited to deal with road surface irregularities than similar scooters in this class, thanks to a system of front hydraulic and rear spring shocks.
Waterproofing that is superior - Unlike most other scooters, the L9 has an IP55 rating that allows it to be used in damp conditions. With a regenerative braking system and a rear physical disc brake, it has a shorter stopping distance than other models. Folding clip on the stem for better handling and carrying for transport.
Price: RM 3,388
12. Glion Dolly Electric Scooter Model 215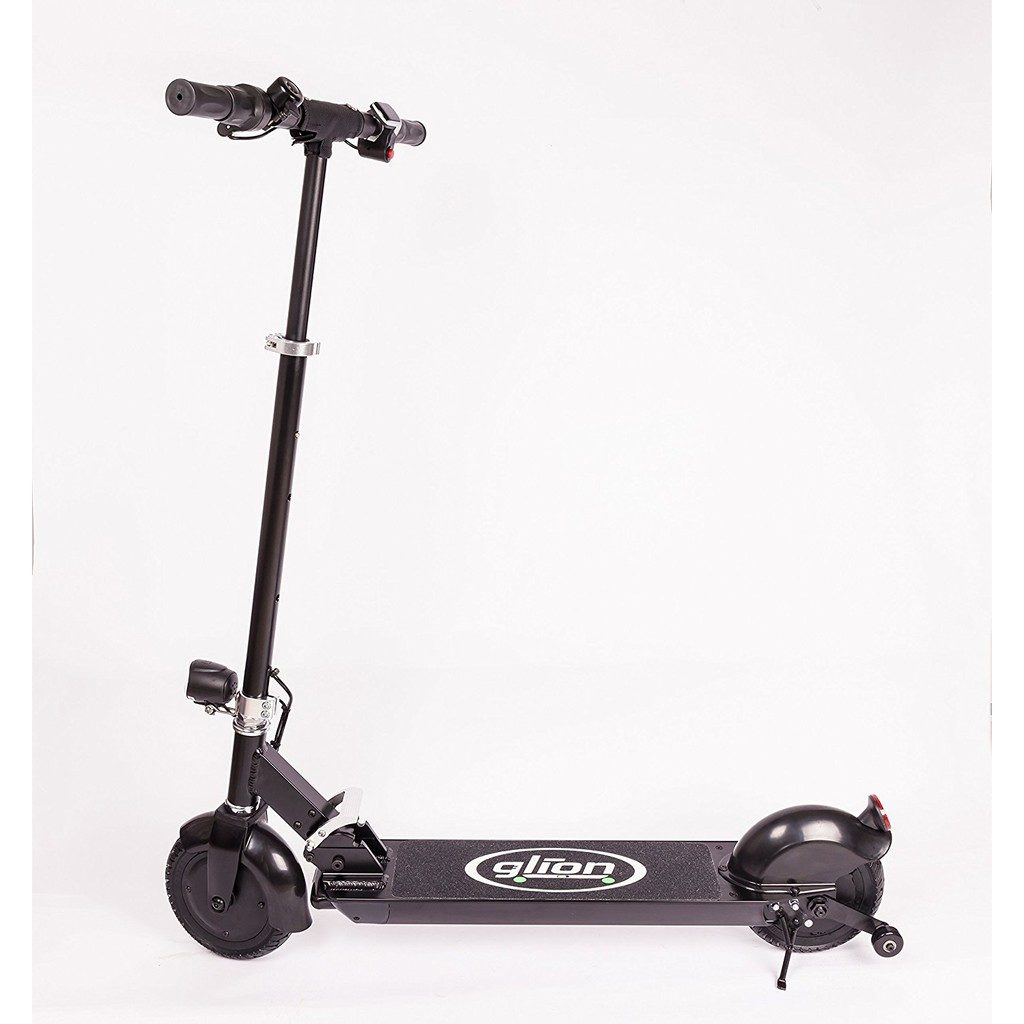 The Glion Dolly is a durable, no-frills commuting machine with a small footprint.
Dolly wheels and an extendable carrying handle help with portability. The scooter folds up into a little package with a small footprint, is easy to transport, and can stand up on its own.
This model has a 238-watt lithium-ion battery pack.
It has a 250 watt motor - the scooter takes 9.4 seconds to reach 24 kmh.
Its ultra-portability, however, it comes at a price. The scooter will be difficult to ride on bad roads and has poor controls and performance. It isn't the most appealing scooter, either.
To slow down, the Glion Dolly depends solely on a single rear electrical brake. A twist-style control is used to activate the brake. The brake operates in a binary mode, with no ability to modulate its strength. This means that the brakes are either completely actuated or not at all.
Another thing is, this scooter has no suspension. Both the front and rear tires are solid and provide no cushioning. The ride quality on the Dolly is acceptable if you are riding on smooth roads.
The Glion Dolly has a minimal cockpit area consisting of: twist-style accelerator/brakes, power button, LCD Display and mechanical bell.
It has a passive red reflector in the back and a single low-mounted front light. Though the front light can be beneficial in an emergency when you're out after dark, it's not something you should rely on.
The Dolly can climb hills reasonably well. It can climb modest slopes, but it isn't a hill-climbing machine. Even minor hills will cause you to slow down significantly. You'll have to dismount and walk the scooter up steep slopes.
Regardless, the Glion Dolly is an excellent scooter for people who frequently use crowded public transportation. This is the basis for the scooter's design. If this meets your requirements, making a purchase is a no-brainer.
Price: RM1,999
Things to Consider When Buying an Electric Scooter
Weight
When selecting an e-scooter, keep in mind the scooter's carrying weight, which affects portability, as well as the weight limits for riders. Consider your daily commute and how much weight you can lift up the stairs or keep firmly on the bus.
Range
The range of a scooter refers to how far it can travel before running out of battery power. The range of your electric scooter is determined by a number of parameters, including the motor's power, the rider's weight, the scooter's weight, the weather, the mode, and the average speed.
If you're commuting long miles on your electric scooter, you'll want to make sure that a full charge will at least get you there.
Brake
When riding an electric scooter, a good braking system is vital for staying safe and in control. Brakes are used to slow down an electric scooter. There are two types of electric scooter brakes: mechanical and electrical.
Mechanical brake systems, which include foot, drum, and disc brakes, rely on a physical mechanism to slow the scooter down.
Electronic braking systems, which include both pure electric and regenerative braking systems, rely on the motor itself to provide braking. The weakest brakes are electric and regenerative brakes. If you're going fast and need to stop quickly, these won't suffice.
Mechanical braking systems will offer much stronger braking than electronic systems. However, electronic systems benefit from not requiring any periodic adjustments or maintenance. Many scooters will have a combination of both electronic and mechanical braking systems.
Speed
Speed demon, how fast do you want to go? When answering these questions, make sure to choose a scooter that can keep up with you, but also evaluate weather conditions and safety. Most electric scooters have a top speed of roughly 32km/h, but you may not have to go that fast.
Motor power
You should choose an electric scooter with a power output of at least 250 watts. That should be plenty to get you across flat terrain and up short hills. For someone who lives in a region with a lot of hills, a scooter with dual engines or a more powerful single motor will be a better choice.
Lighting Make sure your e-scooter has adequate lighting to protect your safety. You can always buy more lights for your e-scooter, but the top scooters already have excellent lighting. After-dark riding necessitates the use of both front and rear lights.
Suspension
Suspension, like that used in cars, smooths out bumps and indentations in the road while also improving ride quality. You will feel every bump if you don't have it, especially if you have solid (airless) tyres. Consider acquiring a scooter with suspension if your commute is longer or includes tough terrain.
Tyres
Tyres come in two types: solid (airless) tires and pneumatic (air-filled) tires.
Solid tyres are inferior to pneumatic in every way except they have virtually no maintenance required. When riding on solid tyres, you're more likely to feel every bump and even stumble over lines of paint on the road.
Pneumatic tyres give better ride quality (with or without suspension) and their supple rubber performs much better in adverse road conditions. Pneumatic tyres have the advantage of shock absorption and better handling.
Conclusion
Each electric scooter has its pros and cons so make sure to do your research! Also keep in mind of all the features stated above to ensure the right e-scooter for your personal lifestyle.
The electric scooter is already a common sight throughout the city. It enables you to move about swiftly and in the most efficient manner possible. It will be easy for you to commute throughout the city if you own one of the top electric scooter Malaysia listed above!